Angela Constance named new youth jobs minister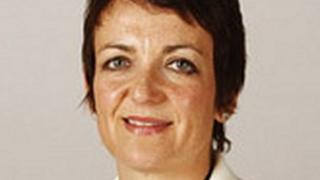 MSP Angela Constance has been named as Scotland's new dedicated youth jobs minister, prompting a government reshuffle.
Ms Constance, currently the children's minister, got the job amid concern over unemployment rates among young people.
Local government minister Aileen Campbell has been moved into Ms Constance's job.
And SNP backbencher Derek Mackay, the former leader of Renfrewshire Council, was named local government minister.
Labour has sought to bring pressure on the SNP over youth unemployment, saying the current 100,000 16 to 24-year-olds out of work is a "national crisis".
The new ministerial role was also called for by leading business and community figures, in a report produced by the Smith Group.
Ms Constance, MSP for Almond Valley and a former social worker, was named as minister for children and young people in the wake of the SNP's landslide election win, in May.
The job was previously held by Adam Ingram.
In her new role, Ms Constance is being charged with a £30m budget to tackle youth unemployment, with the money being brought together from other government departments.
She will also be working with councils, the voluntary sector, private firms and others to take forward a plan of action and will report to First Minister Alex Salmond, through attendance at Cabinet.
Mr Mackay - who was appointed to run SNP elections as the party's business convener - is seen as a rising star.
He was elected to Renfrewshire Council in 1999 at the age of 21, making him Scotland's youngest male councillor at the time.
The Renfrewshire North and West MSP, who also takes on ministerial responsibility for planning, went on to lead the local authority after the 2007 election, where the SNP went from being in opposition to forming the administration for the first time.
Mr Mackay, who has now quit as a Renfrewshire Councillor, also led the SNP group at council body Cosla, from 2009-2011.
Ms Campbell, who won the former safe Labour seat of Clydesdale in May, was the youngest of the 2007 MSP intake, at 27.
She previously worked as a researcher to MSPs Shona Robison and Nicola Sturgeon.
The reshuffle also means a new government job title for Alasdair Allan, who becomes minister for learning, science and Scotland's languages.
Ministerial appointments need to be approved by parliament.