Scots count price of independence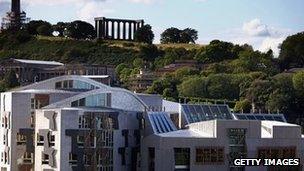 Almost two-thirds of Scots would vote for independence if they were guaranteed to be just £500 better off a year, a survey has claimed.
However, the Scottish social attitudes survey said only 21% would vote for it if they would be £500 worse off.
The survey of 1,197 adults claimed if the standard of living remained the same, 47% would back independence.
Prof John Curtice said the economic case for leaving the union was a debate still to be won or lost.
The research consultant for ScotCen said: "The appetite for a more powerful parliament, including independence, has grown in the last 12 months.
"However, support for independence is still no higher than it has been on previous occasions since the advent of devolution."
Taking the economy out of the question, those backing independence accounted for 32% of responses - up from 24% in 2007 but down from a 12-year high of 35% in 2005.
The survey showed that 58% backed devolution, with or without some tax powers.
Despite the responses on independence, 43% of people agreed that the Scottish Parliament should make all decisions for Scotland - up from 28% last year.
The SNP's Depute Leader and Deputy First Minister Nicola Sturgeon said the survey was a "big boost for Scotland and independence".
She said: "It was conducted following the SNP's historic majority victory in May, and demonstrates conclusively that the people of Scotland want to continue the positive, optimistic journey our nation is on.
"Since the reality is that Scotland puts far more into the London exchequer than we get back in return, the Yes campaign can, and will, win the economic case for independence."
However, Labour's Shadow Scottish Secretary Margaret Curran said: "Far from being the breakthrough the SNP wanted, this shows the vast majority of Scots support devolution and want to see it stronger and better."
She said the referendum was not "a test about how much you love our country" but about what was best for Scotland.
Scottish Liberal Democrat leader Willie Rennie said the survey confirmed that independence was a "real possibility", meaning it was essential to get some "straight answers" about the costs of independence.
Scottish Conservative constitution spokesman David McLetchie said the survey showed support for independence was still relatively low.
"The level of support is still down on what it has been previously, and the SNP should not get ahead of themselves," he said.
Related Internet Links
The BBC is not responsible for the content of external sites.