Fomer SNP leader Gordon Wilson voices gay marriage fear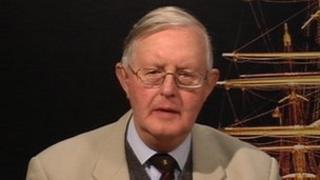 Former SNP leader Gordon Wilson has warned that plans for same-sex marriage could "alienate" people considering voting for independence.
Mr Wilson, who led the SNP in the 80s, said allowing homosexual couples to marry in church was "peripheral".
He said the SNP was going to have to go "full out" to win a majority in an independence referendum.
"Every vote lost through alienation on this issue is a vote that could be lost on the referendum itself," he said.
The Scottish government launched a consultation in September asking if civil or religious marriage should be allowed for gay people.
The SNP's Nicola Sturgeon said all views would be listened to, but added that ministers "tended towards the initial view" that same-sex marriage should be introduced.
The SNP government, elected with a majority in May, has also committed to holding a referendum on Scottish independence in the second half of the five-year parliament.
Mr Wilson, who is chairman of Solas, the centre for public christianity, told Newsnight Scotland he did not know why the SNP was promoting the same-sex marriage issue.
'Political correctness'
He said: "The worry for me, apart from the issue of same sex marriage not being compatible with marriage itself, is that from the SNP aspect with a referendum coming, they are busy alienating voters and it's not the time to do it.
"It's never the time to do it in politics, but certainly not on the eve of a major event like a referendum on independence which is, or used to be, the main aim of the SNP."
The former SNP leader added: "It's a peripheral issue in terms of the demand - where there are only 3,300 civil partnerships in six years compared with 175,000 marriages. They're not doing anything to aid the doubtful cause of political correctness."
He said the government had underestimated the strength of feeling against same-sex marriage.
Mr Wilson also said that heterosexual couples could decide not to get married because they regard it as "tainted".
He said: "If there's a flight away from marriage as we know it for the bringing up of children, then society can suffer.
"And it does not appear that the government has done an analysis to see what the impact will be."