MSPs at Holyrood show off their Movember moustaches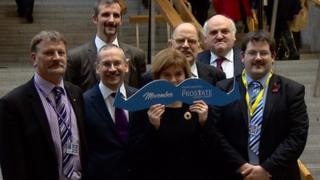 MSPs have been displaying their "Movember" moustaches before shaving them off.
The politicians of all parties have for the past 30 days grown facial hair as part of a campaign to raise awareness of prostate cancer.
Thousands of men in the UK took part in the exercise during November, which has been known as Movember.
Health Secretary Nicola Sturgeon congratulated the MSPs who grew their moustaches.
One of the participants, Jim Eadie, said that he enjoyed having fun to highlight a serious issue.
He said: "The sprouting of moustaches on dozens of men's faces in the parliament is to highlight a serious issue - and it is fair to say that it has also brought a few smiles to the faces of others.
"Our aim for the past 30 days has been to raise vital funds and awareness for men's health, specifically prostate cancer. As men in 2011 we need to address issues regarding our health openly and without stigma.
"I hope we have done our bit to help. The moustache has been a hot topic of conversation."
Ms Sturgeon said Movember was a great way to get people talking about prostate cancer.
She added: "We know that men aren't always as quick to go to the doctor as they should be but people living with cancer are far more likely to do well when they're diagnosed earlier, so it's important that awareness is as high as possible."