Singer Lennox in plea to politicians over HIV/Aids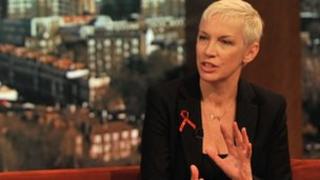 Scottish singer Annie Lennox addressed international parliamentarians at a special conference into the fight against Aids.
The UN Aids ambassador used her speech to call for greater action from parliaments in tackling the disease.
The conference, organised by the Commonwealth Parliamentary Association (CPA) UK, culminated on Thursday - which was World Aids Day.
It attracted politicians from throughout the Commonwealth.
Lennox, who is a special envoy to the CPA's Scotland Branch, said ahead of her speech: "I'm absolutely delighted to be addressing politicians at this conference.
"As a special envoy for the CPA Scotland Branch with regard to the issue of HIV/Aids, I have been striving to contribute to the long-standing Scottish tradition of standing up for human rights and justice, with special regard to women and children in the developing world.
"This conference offers the opportunity to promote this cause to a wider range of decision makers."
It is now 30 years since the first cases of the disease were reported in America.
The conference was organised to examine how politicians are ensuring countries meet their commitments to the UN's millennium development goals for 2015.
They include eradicating extreme poverty, reducing child mortality rates, fighting disease epidemics such as Aids, and developing a global partnership for development.
All 193 United Nations member states and at least 23 international organisations have signed up to meeting the goals.
Range of treatments
In Scotland an estimated 4,509 people are HIV positive, with about 400 new cases of the disease diagnosed every year.
The Waverley Care charity provides support to those living with HIV and their families.
Its director David Johnson said Scotland had come a long way from the "very high" infection rates seen in the 1980s, when the disease was spread amongst intravenous drug users.
Mr Johnson added: "The introduction of needle exchange schemes and other harm reduction measures has transformed infection rates in this community and is a real success story.
"We now need to continue the fight against HIV by cutting sexual transmission rates and reducing the stigma and discrimination associated with the virus."
George Valiotis, chief executive of HIV Scotland, said improvements in treatment had "greatly improved the quality of life for people living with HIV".
He added: "Due to the range of treatments available, many people are able to live with HIV and manage to keep the virus under control. However, we must not forget that there is an annual average of 400 new diagnoses in Scotland."