Scottish government to combat metal theft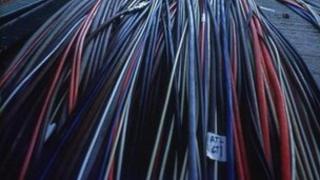 Scrap metal dealers in Scotland could face more robust rules as part of a government move to combat metal theft.
Justice Secretary Kenny MacAskill launched a consultation to look at improving standards by expanding the metal dealers licensing scheme.
The government is looking at requiring all dealers with a turnover of less than £10m to be licensed. The current figure is £100,000.
The crimes have increased with the rise in the value of scrap metal.
Rail and utility companies have been among those who have been the victims of metal theft.
Mr MacAskill's announcement comes in the wake of Prime Minister David Cameron's pledge to look at the regulation of scrap metal dealers.
In a recent report, the Association of Chief Police Officers estimated that the cost to the UK because of metal theft had been estimated at £220m to £260m.
Mr MacAskill said: "The Scottish government takes metal theft extremely seriously and we will do all we can to support efforts to reduce it.
"That is why I have launched a consultation on expanding the metal dealers licensing scheme to include many more dealers.
"Metal theft is a major problem and it has a huge impact on society. Whilst thieves may only make £50 from the stolen metal, it could cause a repair of tens of thousands of pounds as well as the incalculable costs and inconvenience of delayed commuters and the loss of phone and internet services.
"If we can improve standards in the industry through licensing then this can reduce the outlets for stolen metal and hence the incentive to steal.
"Licensing can ensure that better records are kept, CCTV cameras are installed and checks on the identity of a customer are conducted."