Scottish nursing and midwife jobs decrease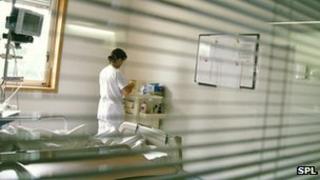 More than 1,500 nursing and midwifery posts have been lost in the Scottish NHS in the past year, new figures said.
The equivalent of 370 full-time posts were lost in the last quarter, according to Scottish government-published statistics.
The headcount of NHS workforce showed more than 4,000 fewer staff than a year ago.
Ministers said they had protected health, in the face of the public spending squeeze.
The Scottish government said the figures were in line with previous estimates, but Labour said the SNP had allowed the NHS to "haemorrhage" workers.
According to the figures, the number of nursing and midwifery "whole-time equivalent" (WTE) staff on 30 September was 56,309, compared with 57,878 on the same date last year.
Over the same period, the total number of WTE staff, excluding GPs and general dentists, stood at 131,339, down from 134,964.
Labour health spokeswoman Jackie Baillie said: "The SNP government promised to protect our NHS and frontline workers, but these figures expose the harsh reality is that the SNP is doing neither.
"For all their promises, the SNP has allowed the NHS in Scotland to haemorrhage over 4,000 staff."
Tory health spokeswoman Nanette Milne MSP, said: "These are worrying statistics and confirm what has long been known - that the SNP is failing to protect frontline NHS services.
"These are huge cuts to staffing numbers, and with nursing and midwives positions dropping by over 2,000 in the last year it is the key employees who are being let go."
The Lib Dems' Alison McInnes, added: "These figures expose the health secretary's hollow promises on protecting the health budget.
"The Scottish government should be looking at ways of cutting waste and high pay in the NHS in order to protect vital frontline services and maintain nursing numbers."
The Scottish government said the figures were in line with "previously published projections", adding that there had been an increase in other clinical staff, including consultants, doctors and dentists.
Health Secretary Nicola Sturgeon, said: "The NHS doesn't stand still.
"It is currently in a period of transition, as the balance of care shifts towards more community care and shorter hospital stays.
"The shape and size of the workforce reflects that transition."
Ms Sturgeon added: "I fully understand that changes to the NHS workforce will always be a source of potential concern, and it is therefore vital that changes continue to be considered in partnership with staff and that they are informed by rigorous workforce planning."
How does the NHS in Scotland spend your cash?
NHS Scotland has published its costs book - an annual look at how health boards spend a total budget of £9.8bn.
Highlights from the 2011 edition state:
The wage bill for hospital and community services staff in Scotland is £4.9bn.
A total of £1.4bn was spent on prescription drugs by NHS boards - the equivalent of £264 for every person in Scotland.
The average cost of a person attending Accident and Emergency is £103.
The average cost of treating someone having surgery is £3,039.
The average stay in intensive care costs £8,568.
It costs £1.5m a year to run an operating theatre for 27 hours a week.
It costs £38 per square metre to clean a hospital.
Each MRI scan costs £214.
There are 1,009 GP practices in Scotland, with the cost of out-of-hours GP services last year running to £75m.
There were 1.8 million eye tests, at a cost of £92m.
It costs £77 to feed a hospital patient for a week.
£244m was spent on about 3.4m x-rays and scans.