Call for undersea Scots-Irish energy grid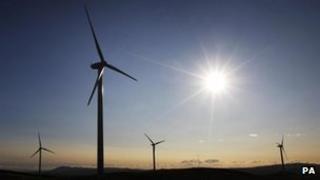 Building an undersea electricity grid connecting Scotland and Ireland within the next 10 years could provide a major economic boost, a new report has said.
The project could secure jobs and green energy, said the EU-funded Irish-Scottish Links on Energy (Isles) study.
But the report also warned there were tough challenges in getting the £5.6bn development up-and-running.
Scottish, Irish and Northern Ireland ministers have agreed to press Westminster and Brussels on the issue.
Details of the study, announced during a Scots-Irish ministerial meeting, in Glasgow, concluded the project was "economically viable", with no technical barriers to its development.
But it also pointed to the "complex and evolving" nature of three different sets of planning and licensing laws, and on environmental issues, added: "The landfall points along the costal areas of all three jurisdictions have significant constraints due to flora and fauna protected sites."
SNP Finance Secretary John Swinney, said of the two-year study: "These islands have some of the most abundant and powerful offshore renewable energy sources in Europe.
"Indeed, Scotland has around a quarter of the continent's wind and tidal resource and as much as a tenth of its potential wave power.
"This project paves the way to allow us to harvest that potential, further develop our export capability and bring in revenues to Scotland."
Irish Energy Minister Pat Rabbitte, added: "By co-operating with our neighbouring administrations, we can work together to create a viable market for these resources initially across our own islands but in time to continental Europe.
"The study shows that we have the potential to reduce infrastructure costs by working together in the long term to develop a planned network design."
Arlene Foster, energy minister for Northern Ireland, said the study presented a "realistic picture of an energy future where the regional wind, wave and tidal energy resources located far off our coasts are harnessed and used for our mutual good".
But she warned: "This will not happen quickly or easily."
European Union energy targets have committed all 27 member states to source 20% of their energy needs from renewable energy by the 2020.