Free speech 'protected' under anti-sectarianism bill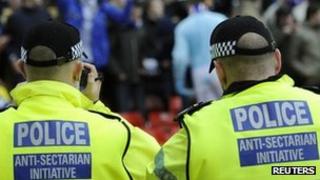 The Scottish government has taken steps to protect freedom of expression, under plans to tackle religious hatred.
The change covers people sending communications like internet messages containing insults or abuse of religious beliefs.
The move came as the bill, which aims to tackle problems largely related to football games, passed its latest parliamentary hurdle.
But opposition parties are still refusing to back the legislation.
The Offensive Behaviour at Football and Threatening Communications (Scotland) Bill aims to tackle abusive behaviour, whether fans are watching matches in a stadium, in the pub or commenting online, with jail terms of up to five years.
The freedom of expression clause was brought forward by Community Safety Minister Roseanna Cunningham, as Holyrood's justice committee debated amendments to the legislation.
The minister said the exemption would not cover online messages which are threatening or likely to cause public disorder, or sectarian and threatening behaviour at and around football matches.
She said: "The intention of the amendment is not to prevent legitimate religion discussion and debate.
"It aims to prevent the kind of communication we saw last football season when individuals were threatened with serious harm."
Labour MSPs on the committee refused to take part in the discussion, while its only Liberal Democrat MSP also abstained from all but one key area.
Final stages
The Tories, who also oppose the bill as it stands, proposed several amendments.
Deputy justice committee convener, Labour MSP James Kelly, said the legislation was currently "not fit for purpose".
But committee member and SNP MSP Humza Yousaf said Labour's abstention, "shows Labour is reluctant to help eradicate the scourge of sectarian hate crime".
After being backed by the justice committee, the majority government's bill now moves forward to its third and final stage of parliamentary scrutiny, when parliament will consider final amendments and vote on the legislation.
The bill aims to criminalise offensive or threatening behaviour likely to incite public disorder at certain football matches.
If it is passed, it will also make into a criminal offence the sending of communications which contain threats of serious violence or which contain threats intended to incite religious hatred.