Scottish Labour leader vote papers posted this week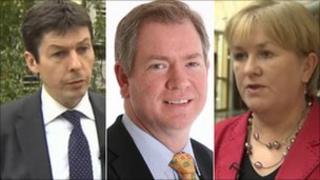 More than 300,000 ballot papers for the election of the Scottish Labour leader are being sent out to party members.
Current deputy leader Johann Lamont, who is standing against MSP Ken Macintosh and MP Tom Harris, is seen as a front runner.
The election was called after current leader Iain Gray announced after the May election that he would be stepping down "in the autumn".
Members of affiliated trade unions and other organisations also get to vote.
The papers are due to be sent out at the end of this week.
Colin Smyth, the party's Scottish general secretary, said the race to succeed Mr Gray was "not just an election for party members, but party supporters".
Mr Smyth explained: "Individual members of affiliated organisations, societies and trade unions who pay the political levy and support Labour's aims and values are invited to take part.
"That means almost a third of a million Scots will get a ballot paper in the coming weeks.
"Meanwhile, our regional hustings are taking place across Scotland now, allowing party members to quiz the candidates."
Ms Lamont has been backed by 27 members of the party's MSP, MP and MEP group, 12 unions and affiliated organisations - including Unison - and 14 constituency Labour parties.
Mr Macintosh is being supported by 26 parliamentarians, five unions and affiliates and 10 constituency Labour parties.
Mr Harris has won backing from 13 parliamentarians, including one MEP, but has not secured the support of any MSPs or unions, while he is being supported by his own, Glasgow South constituency Labour Party.
Each of the three sections in the Labour electoral college will be voting in the contest, with the result due on 17 December.
The party is also electing a new deputy leader, with two MPs, Ian Davidson and Anas Sarwar, standing, along with MSP Lewis Macdonald.