Labour Party launches petition over rail consultation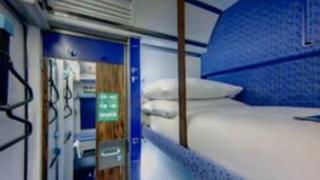 The Scottish Labour Party has urged the public to sign a petition as part of its campaign to protect Scotland's sleeper train service.
The move comes after Transport Scotland suggested sleeper services between Scotland and London could be cut.
Labour said its "Stop the Great SNP Railway Robbery" petition had attracted 4,000 names.
Transport Minister Keith Brown said the government had embarked on a consultation over the recommendations.
He added that the government's ambition was to have a railway that offered value for money, ensured closer working and integration between Network Rail and the service operators and had passenger interests at its heart.
Labour's transport spokesman Lewis Macdonald said the number of people signing the petition showed the strength of feeling that existed "about these crackpot plans".
He added: "The people of Scotland are scathing about the proposals. They want to see rail services set up for the benefit of passengers, not operators.
"I'm also pleased to see a lot of support for retaining the sleeper service and allowing the cross border services to travel all the way to their destination without passengers having to get off in Edinburgh and transfer to other trains heading north."
Mr Lewis added that signatures for the petition were being collected at a number of railway stations in Scotland.
Proposals in the consultation document include;
raising fares on those routes which have benefited from improvement works
removing first-class services and providing additional capacity when overcrowding is an issue
looking at whether to increase the time passengers may have to stand
considering separate franchise operators for sleeper services and other lines, such as Glasgow to Edinburgh
encouraging the next operator to make more money where possible, "without compromising the ScotRail brand"
working with the rail industry to improve mobile communications, including Wi-Fi
Not cutting the number of stations but considering "attuning" their number and location
Making Edinburgh Waverley an "interchange hub" for cross-border rail services, with journeys north of Edinburgh provided by the Scottish train operator
The Scottish government currently puts more than £700m a year into rail services, while the money ScotRail makes from passengers pays for about a quarter of the cost of providing its services.
Transport Scotland said there were about 78 million passenger journeys each year, with demand for services increasing by more than 25% in the past seven years.
The Transport Scotland consultation runs until next February, with the conclusions due to be published later in 2012.