John Swinney urges Treasury borrowing to boost economy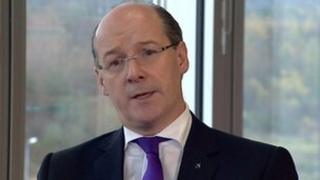 Scotland's Finance Secretary John Swinney has urged the Treasury to borrow billions of pounds to help fund major building projects and prevent a return to recession.
Mr Swinney was speaking to the BBC's Politics Show Scotland ahead of the chancellor's autumn statement.
George Osborne is due to outline his spending plans at the end of the month.
Mr Swinney said he should borrow an extra £20bn for capital investment - £2bn of which should go to Scotland.
Last week Mr Swinney accused Mr Osborne of "talking down" Scotland after the chancellor claimed the uncertainty of a future independence referendum was damaging the Scottish economy.
The Scottish finance secretary has now written to the UK chancellor advising him to put in place new measures to boost the economy and enhance consumer growth.
Mr Swinney said: "The key proposition must be to support an expansion of capital investment within the country.
"An increased programme of capital investment would substantially increase our ability to deliver growth.
"I think if the chancellor was to supplement capital programmes over the next three years by the order of about £2bn in Scotland - that would be the type of investment that would make a substantial contribution to boosting capital programmes."
Mr Swinney said economic confidence had weakened in recent months and he insisted borrowing more money to fund large-scale projects was necessary in order to prevent a return to recession.
"Clearly there are dangers that that might happen," he told the Politics Show.
"Growth is not at a high level, so therefore with the warnings that we have, I think any responsible chancellor looking at that data will see he needs to invest more to generate growth and avoid further recession."
On the prospect of another recession, Scottish Secretary Michael Moore said: "We are working very hard to make sure that in these extraordinarily challenging times, in Europe and elsewhere, that we keep the growth going.
"We understand how tough it is for businesses. That's why we are engaging with the banks, and why we're looking to cut their tax bills and keep their interest rates as low as possible.
"All that effort, working together with the Scottish government and others, I'm sure, will be tough, but we will get to the right place."
He said the coalition government had to keep a close eye on borrowing to protect the rest of the economy.
'Deeply hypocritical'
Scottish Labour's finance spokesman Richard Baker said the UK government was cutting "too far and too fast".
But he accused Mr Swinney of being "deeply hypocritical".
"He has personally chosen to cut capital spending twice as fast as even George Osborne," said Mr Baker.
"Between last year and this, George Osborne cut capital budgets by 11%. John Swinney cut them by 21%."
He added: "The Scottish economy is stagnating and growing even more slowly than the UK as a whole.
"The Scottish government takes credit when things go well, so they must take action when things are going badly."
In his "wish list" letter to the chancellor, Mr Swinney has also urged the UK Treasury not to cut benefit incomes next year, to reconsider a decision to end tax relief for the video games industry and to look at measures to increase access to affordable finance for businesses.