Scots referendum clarity move 'not ruled out'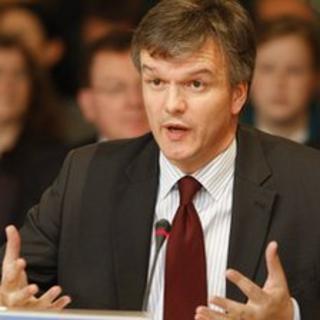 Scottish Secretary Michael Moore has declined to explicitly rule out any UK involvement in the forthcoming independence referendum.
Mr Moore said the coalition was "not intending" to bring forward a clarity clause in Westminster legislation to set out the terms for the referendum.
He told MSPs the point was "hypothetical" and recognised the SNP's right to run the independence vote.
The SNP's Linda Fabiani said she was "disappointed" at Mr Moore's comments.
The Scottish secretary was answering questions from a special committee of MSPs set up to scrutinise the Scotland Bill, currently going through Westminster.
The legislation will devolve new tax and other powers from Westminster to Scotland, but the SNP argues the measures do not go far enough.
The SNP government is holding a referendum on independence in the second half of the current five-year Scottish Parliament.
Concerns have been raised that a "clarity clause" inserted into the Scotland Bill may set the timetable and terms of the independence referendum, which Scottish ministers would have to adhere to.
The term takes its name from the Clarity Act, a law passed by the Canadian government which laid down detailed provisions for holding a referendum by Quebec, to help ensure the clear will of the people had been expressed.
Ms Fabiani, the committee convener, asked Mr Moore: "Will you ensure that, in the Scotland Bill, there is nothing that interferes with the right of the Scottish government representing the Scottish people to see the timing and the wording of the questions for that referendum?
Referendum timescale
"It plays no part in the bill and what we're interested in is getting this package of measures on the statue book and implemented."
She asked: "If it plays no part in the bill, are you saying it will not be in the bill?"
The Scottish secretary answered: "I don't anticipate it will be - it's not what this government is bringing forward."
He later added: "We're not intending to bring forward any such proposition."
Ms Fabiani said: "I'm disappointed, secretary of state, that you will not give that clarity for the Scottish people."
Mr Moore also said the Scottish government - which is not giving a precise timescale for the referendum - must bring it forward "sooner rather than later".
He added: "I'd like there to be some clarity about what the question will actually be and, indeed, how many questions there are going to be."
The Scotland Bill, although a piece of Westminster legislation, cannot go ahead without the backing of the Scottish Parliament - meaning the SNP could potentially scupper the laws by voting against them.