Scotland Office dismisses SNP pension funding claims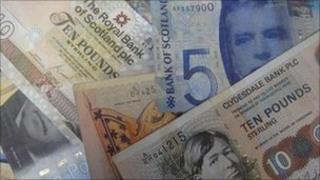 The Scotland Office has dismissed SNP claims an independent Scotland would be better placed than the UK to fund pensions and welfare.
The SNP made the claim based on figures from Government Expenditure and Revenue Scotland (Gers).
The party said they showed Scotland had a relative surplus in pensions and welfare spending compared to the UK over a five-year period to 2010.
But the Scotland Office said it was a case of "flat earth economics".
Gers, which is compiled by Scottish government officials, estimates the contribution of revenue raised in Scotland towards goods and services provided "for the benefit of Scotland".
The SNP said analysis of the Gers figures showed between 2005 and 2010, Scotland's pension expenditure was 15.1% of Scottish revenues, lower than the 15.7% figure for the UK.
Social/welfare protection expenditure, it said, was 41.9% of Scottish revenues - lower than the UK's figure of 43.2%.
'Relative surplus'
SNP work and pensions spokeswoman Eilidh Whiteford said: "On the basis of taxes raised in Scotland, and once our welfare protection expenditure and state pensions are paid, Scotland actually has a relative surplus compared to the UK.
"In short, Scotland is more able to afford our pension and welfare bill than the UK."
She added: "Taking all spending in Scotland into account and all of our revenues, Scotland has run a current budget surplus in four of the five years to 2009-10 - while the UK was in current budget deficit in each of these years, and hasn't run a current budget surplus since 2001/02."
A Scotland Office spokesman responded by saying Scots were being given "shallow assertions that will not succeed in distracting attention from the holes in the independence argument".
He continued: "This is yet another chapter in the book of flat earth economics which is being written by those who support independence.
"It is unfortunate but not surprising that instead of a serious answer to a serious question, they are trying to pretend there are no issues. Scotland should be very worried about this kind of behaviour."
He added: "Their argument completely fails to explain how much pensions and welfare would be and who would administer or pay for them or exactly how a separate Scotland with a smaller tax base, an ageing population and a bigger ratio of public sector workers and welfare claimants could possibly lead to things being better."