New leader Ruth Davidson announces front bench team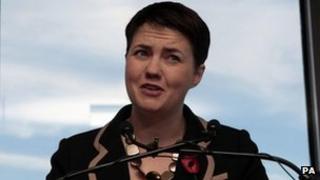 The new leader of the Scottish Tory Party, Ruth Davidson, has announced the roles for her parliamentary team.
All but one Conservative MSP, John Scott, will have a job to perform.
The candidates Ms Davidson beat in the election will have roles, including Jackson Carlaw - who becomes the party's deputy leader.
Murdo Fraser, who came second in the leadership contest, has agreed to be convener for the economy, energy and tourism committee.
Mr Fraser had been the party's deputy leader.
At the weekend, Ms Davidson told BBC Scotland's Politics Show she would be giving a "very big role" to Mr Fraser.
The new leader, who celebrates her 33rd birthday on Thursday, made public her front bench team ahead of facing Alex Salmond at First Minister's Questions.
It will be the former broadcaster's first encounter with the SNP leader in the Holyrood chamber.
Ahead of the lunchtime event, she said she would be "getting on" with holding Mr Salmond to account.
Ms Davidson beat Mr Carlaw, Mr Fraser and Margaret Mitchell to become leader following Annabel Goldie's decision to step down from the post.
Despite leaving the high-profile role, Ms Goldie will serve in Ms Davidson's team as culture and communities spokeswoman.
Mr Scott will not perfom a party role as he is currently a deputy presiding officer at the Scottish Parliament.
The full team includes;
Deputy leader and health spokesperson: Jackson Carlaw
Chief whip: John Lamont
Finance, employment and sustainable growth spokesperson: Gavin Brown
Education and lifelong learning spokesperson: Liz Smith
Rural affairs spokesperson: Alex Fergusson
Justice spokesperson: David McLetchie
Energy, enterprise and tourism spokesperson: Mary Scanlon
Local government and planning spokesperson: Margaret Mitchell
Committee convener for economy, energy and tourism: Murdo Fraser
Public health, sport and commonwealth games spokesperson: Nanette Milne
Environment and climate change spokesperson: Jamie McGrigor
Culture and communities spokesperson: Annabel Goldie
Infrastructure, capital investment, housing and transport spokesperson: Alex Johnstone
After announcing her parliamentary team, Ms Davidson said: "I believe it's a strong team which plays to the talents of the members, and will prove well able to hold the government to account."
Mr Carlaw added: "I will be proud to serve as deputy leader of the Scottish Conservative and Unionist Party and will support Ruth's leadership both in Holyrood and with the important job of helping to reshape the party.
"This is a period of great change for our party and we will ensure that all of our members at every level are able to come together and contribute to the way we move forward."