Monitoring centres for animal diseases face cuts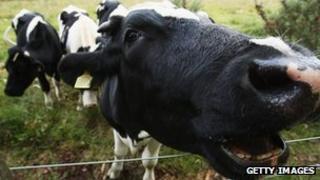 The number of specialist centres monitoring animal diseases could be reduced, a Scottish government review has recommended.
There are currently eight units, including ones in Aberdeen and Ayr.
The reduction plan appears in the Review of Veterinary Surveillance led by former National Farmers' Union Scotland president, John Kinnaird.
His team was asked to suggest a better system of identifying diseases in the livestock industry.
Surveillance of animal diseases became heightened after the devastating foot and mouth outbreak in February 2001 in which thousands of animals throughout the UK had to be destroyed.
The recommendations in Mr Kinnaird's report included:
the establishment of a strategic management board to oversee veterinary surveillance
the phased reduction in the number of disease surveillance centres
establishing a single central lab to test samples
and better balancing costs between government and animal keepers
Rural Affairs Secretary Richard Lochhead said he was accepting the recommendation to establish a strategic management board but he would consider carefully the plan to reduce the number of disease surveillance centres.
He added: "This government fully recognises the importance of veterinary surveillance work which is why this area was protected in this year's budget from any further spending cuts for the next three years.
"The disease surveillance centres perform a valuable role but it is vital that we ensure that we have the right number of these in the right locations, to meet the challenges facing Scotland today and in the future.
"While today's report says that the number of centres should be reduced, no recommendations have been made on the number or location of centres to be retained. I will consider this very carefully, using the road map contained in the report, before reaching my decision."
Currently, veterinary surveillance is provided by the Scottish Agricultural College which receives a grant of more than £4m each year.
It operates the eight surveillance centres in Aberdeen, Ayr, Dumfries, Edinburgh, Inverness, Perth, St Boswells and Thurso.
Before filing its report, Mr Kinnaird's team received evidence from more than 600 farmers and 93 vets.