Tory 'colleagues' meet to talk strategies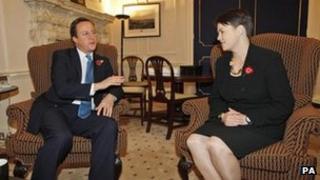 A meeting of colleagues. Ok, the parameters were somewhat uneven in that the talks were held in London - to be precise, on David Cameron's home turf, 10 Downing Street.
But Ruth Davidson, the newly elected leader of the Scottish Conservatives, has stressed that Mr Cameron is her colleague, not her boss.
Or does that only apply when he is in Scotland, on her patch? Do the terms change? Is it like the Prince of Wales/Duke of Rothesay? Ach, Brian, enough.
Enough teasing. [For now] David Cameron and Ruth Davidson have a shared interest in Scotland's constitutional future and in their own party's prospects north and south of the Border.
In that regard, it is interesting that, following the 45-minute discussion, their joint statement should deal with the issue of a referendum on independence; specifically, the timing and wording thereon.
Ms Davidson asserted that "Alex Salmond's uncertainty and dither over a referendum is not in Scotland's best interests". Her colleague agreed.
Mr Cameron suggested that the enactment of the Scotland Bill, presently before Westminster, should pave the way to a "clear-cut" referendum.
Hints again, then, that the UK Conservative-led government stands potentially ready to call a referendum on its own terms, should the Scottish government's wording or timing be judged unacceptable.
To emphasise, only hints. Ms Davidson said that "the ball is in the SNP's court to name the question and name the day".
This matches the comments by the Scottish Secretary Michael Moore at the weekend that the referendum was a matter for the Scottish government in the first instance.
Clear mandate
So why do UK ministers delay? Why do they continue to sound like Lear with their declarations of potential intent. "I will do such things - what they are, yet I know not. But they shall be the terrors of the earth".
Why not end the uncertainty, the "dither", and call a plebiscite now, on their own terms?
Simple, they fear they might lose.
They fear that, right now, it might be seen by voters in Scotland as unwarranted interference so soon after Mr Salmond obtained a clear mandate in the Holyrood elections.
For Unionists, the calculation will be as to whether/when the public mood has changed sufficiently to tolerate a poll organised by the UK government.
Mr Salmond insists that the referendum will take place in line with the promise which he made during the Scottish elections, in the latter half of the present Holyrood term.