Number 10 meeting for new Tory leader Ruth Davidson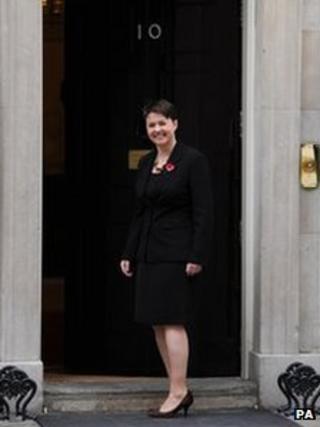 Newly-elected Scottish Conservative leader Ruth Davidson has met David Cameron for talks at 10 Downing Street.
Afterwards, the 32-year-old former BBC journalist called on SNP leader Alex Salmond to "name the day" for a referendum on Scottish independence.
Ms Davidson said she shared an agenda with Mr Cameron for moving the party and Scotland forward.
She promised to "continue to fight Scotland's corner and stand up for Scotland in Britain".
Ms Davidson was widely seen as the prime minister's favoured candidate in the ballot of party members to choose a successor to Annabel Goldie.
After posing for photographs at Downing Street, she said it was a "pleasure" to meet Mr Cameron again.
Ms Davidson added: "We agreed that Alex Salmond's uncertainty and dither over a referendum is not in Scotland's best interests.
"He must not be allowed to rig the referendum. Our country needs certainty and stability. The referendum needs to be held, but it must to be clear, unambiguous and protected from legal challenge.
"The ball is in the SNP's court to name the question and name the day. But we cannot and will not allow Scotland to be hoodwinked into independence."
Ms Davidson is the party's first overall leader for Scotland, following a shake-up of the party structure.
Mr Cameron said: "Our Scottish party has, for the first time, a leader of the entire movement in Scotland and I look forward to working with Ruth to tackle the big challenges and opportunities facing the country."
He said the new Scotland Bill would transfer "significant" extra powers to Holyrood and place the responsibility for raising billions of pounds of public spending in the hands of the Scottish Parliament.
Mr Cameron added: "This will meet the demands of the Scottish people for more say over how Scotland is run, and clear the way for a straightforward and clear-cut referendum on 'yes or no' to Scotland in Britain."