QC Paul McBride leaves Tories after two years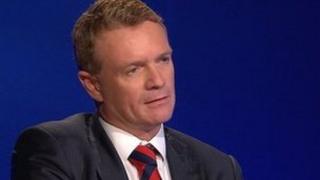 A high-profile QC has left the Scottish Conservatives following the election of the party's new leader.
Paul McBride resigned after Ruth Davidson, a former BBC journalist and newly-elected MSP, became the party's new leader on Friday.
The Celtic supporter's concern centred on Tory opposition to the SNP's legislation to tackle sectarianism.
Ms Davidson, 32, takes over following a divisive split over the future of the party.
One challenger, Murdo Fraser, called for a brand new party to replace the existing Scottish Conservative and Unionists.
In 2009 Mr McBride announced he had abandoned lifelong support for Labour and joined the Conservatives.
But he was critical of Ms Davidson's campaign manager, MSP John Lamont, who is also the party's justice spokesman.
He described the party as "a bunch of unreconstructed morons" in the Sunday Herald and said: "They have replaced one nice woman with one not so very nice woman."
'Divided and dysfunctional'
Mr McBride later released a statement which added: "The Scottish Tories are no friends of the people of Scotland.
"The MSP group is divided and dysfunctional. Their only policy is to oppose everything and contribute nothing.
"Half the membership wants the party abolished and 87% of the electorate despise them.
"Their naked opportunism regarding the minimum pricing bill and the offensive behaviour bill demonstrates why they will remain unelectable.
"Nothing suggests they have the insight to change and I want nothing to do with them.
"Money and support will drain away and Alex Salmond will not lose a moment's sleep."
Party 'implosion'
Ms Davidson is the party's first overall leader for Scotland, following a shake-up of the party structure.
She was elected in a ballot of 8,000 Scottish party members, replacing Annabel Goldie, who led the party from 2005.
Ms Davidson entered Holyrood at the Scottish election in May, winning a seat on the regional list for Glasgow.
She played down suggestions that it could be difficult to reunite the party following the election, which was also contested by Jackson Carlaw and Margaret Mitchell.
Speaking on the BBC's Politics Show, she said: "There will be a very big role for Murdo Fraser.
"This was an energising contest for our party - and not just Murdo, but also Jackson and Margaret. We really did capture the imagination of our electorate within the party and within the media, it would be fair to say.
"We are a much stronger party for having had this election."
SNP MP Pete Wishart said Ms Davidson looks likely to preside over an "implosion" in the party.
He said: "Davidson might claim to be the boss in Scotland but she is deferring to colleagues in London over the referendum."
He added: "While Murdo Fraser sought to disband the Conservatives in Scotland, it looks like Ruth Davidson is set to preside over an implosion."