Report backs Scottish renewables under independence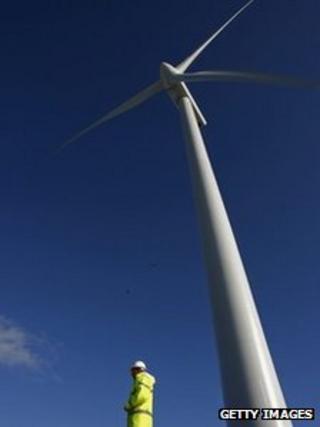 A new bank report has backed Scotland's renewable energy policies, just days after a major finance company warned businesses against investing in the renewables sector in Scotland.
Citigroup had said the independence referendum process would create huge uncertainty when major decisions on green projects were needed.
But investment bank Altium Securities dismissed the warning.
Energy Minister Fergus Ewing welcomed the Altium report.
Citigroup analysts had argued the SNP's two flagship policies - an independence referendum towards the end of the current parliament and a big increase in renewable energy and green jobs - could be in conflict.
That warning was followed by a report by the Institution of Mechanical Engineers which criticised the Scottish government's plan to meet 100% of electricity demand from green sources by 2020.
It said such a move "may increase fuel poverty and turn Scotland from a net exporter to a net importer of energy".
In its report, Altium Securities said it "did not share recent competitor analysis that utilities developing renewable energy assets were exposed to stranded asset risk from an independent Scotland".
It also argued Scotland had the potential to be the lowest-cost generator of wind energy in Europe due its "unique wind characteristics".
It said: "We view Scottish independence an irrelevant factor in meeting UK-wide reduction commitments as the lowest-cost supplier will always be sought first."
Mr Ewing said: "This report makes it clear that investment will continue whatever Scotland's constitutional status, including under independence."