Ruth Davidson: David Cameron is not my boss in Scotland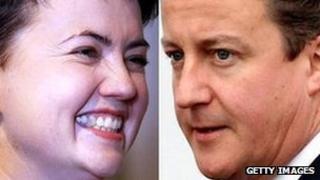 The new Scottish Conservative leader has distanced herself from London control by insisting David Cameron is not the party boss north of the border.
Ruth Davidson was elected leader on Friday after beating Murdo Fraser, who had been seen as the front runner.
She told a press conference: "While David Cameron is my prime minister, when he comes to Scotland he's not my boss - we're colleagues."
She also announced David Mundell would be interim party chairman.
Ms Davidson is the party's first overall leader for Scotland, following a shake-up of the party structure.
The 32-year-old former BBC journalist and newly-elected MSP also highlighted different approaches to policy in the Scottish Parliament.
She said: "I'll be making a vision that is right for Scotland, right for the Scottish Conservatives, and I hope very much to work with our prime minister.
"But if he needs a quiet tap on the shoulder, then I'm just the girl to do it."
Ms Davidson said policies would be developed over the coming weeks.
'Business-friendly'
She called for a more business-friendly outlook, committed to keeping the NHS free at the point of delivery, and said GPs should be given "more autonomy".
On education, she argued for more freedom for parents who wanted to choose their children's school.
She also said justice should be rebalanced on the side of victims and the law should target persistent low-level offenders who "make life miserable for decent people".
Ms Davidson was elected after a divisive battle in which fellow candidate Mr Fraser argued for the party to be scrapped and replaced with a new centre-right movement.
Ms Davidson rejected concerns that a breakaway party might emerge and insisted the party would now pull together.
She also announced a series of appointments to Tory party posts in Scotland.
They included making Mr Mundell, the only Tory MP in Scotland, interim party chairman to review structure.
John Lamont MSP, who led her election campaign, has been asked to co-lead the campaign for next year's local government elections, along with a Tory councillor.
As well as beating Mr Fraser into second place, Ms Davidson saw off challenges from Holyrood colleagues Jackson Carlaw and Margaret Mitchell.
She said: "They are not my opponents, they are my colleagues. This leadership campaign was enriched by their passion, energy and ideas.
"Our party, and broader political debate in Scotland, is better and richer for the campaigns they ran."
Ms Davidson was elected in a ballot of 8,000 Scottish party members.
She only entered Holyrood at the Scottish election in May, winning a seat on the regional list for Glasgow.
She has replaced Annabel Goldie, who led the party from 2005.