Challenges ahead for new Tory leader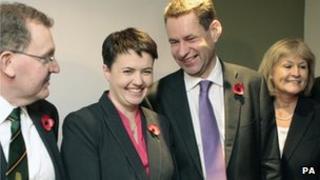 Congratulations to Ruth Davidson for securing a clear victory in the contest to succeed Annabel Goldie as the leader of the Scottish Conservatives.
Not an overwhelming win - it was never going to be. But a definite, ultimate lead over her principal challenger Murdo Fraser - with the others trailing.
She now faces a substantial, indeed gargantuan, challenge on a number of fronts.
Firstly, she has to provide coherent, strong opposition to Alex Salmond and the Scottish government - not least with an eye to the forthcoming (although, as things stand, relatively remote) referendum.
She has to build this opposition upon minimal experience of parliamentary politics, having only been elected to Holyrood in May.
She is on record as saying that she is disinclined to go beyond the additional Holyrood powers proposed in the Scotland Bill presently before Westminster. We may, therefore, take it as read that she will want a straight independence referendum, unencumbranced by a further question on devo max.
Secondly, she has to lead the party across Scotland - as part of the broader role which the post now involves. She rejected the plan to alter the nature of the centre-right offer in Scotland - and now must deliver within the retained set-up.
Thirdly, she has to build and win the trust of her MSPs at Holyrood. Yes, there is more to political life than the Scottish Parliament. But it matters, it really matters.
She starts, frankly, with a disadvantage. More Tory MSPs nominated Murdo Fraser than chose her. Indeed, Mr Fraser secured support from a majority of the admittedly small group.
They will now, of course, declare their loyal support to the victor. That is where democracy - and logical inevitability - points. But she will have to energise her team if they are to do more than carry out their parliamentary duties, if they are to advance the Tory cause.
Against these problems, however, Ms Davidson comes with considerable advantages. She is young, brisk, energetic, personable - and a talented communicator.
And what then of Murdo Fraser? As I noted in advance, he now faces a substantial challenge in his own right - which is to discern an exit strategy from the stance he took during the election.
For Mr Fraser did not simply say that the Tories in Scotland were going through a bad patch. He went rather further than to suggest that things could only get better.
He said, and I quote him directly, that the Tory Party could "never succeed in its current form."
Party direction
Early opposition to the Scottish Parliament had, he said, led to the party being portrayed as "anti-Scottish". To drive home the point, he added: "There is no future for the Scottish Conservative and Unionist Party in its current form."
The prospectus for the Tories was, he said, "without exaggeration, adapt or die".
So what can he say now? Now that he is obliged to travel hopefully within a political vehicle which he has decried as unfit for purpose.
Remember that he is on record as stressing that he has no intention of quitting to form a rival operation.
Politicians are frequently obliged to eat their words. Some purport to find them toothsome. But this is a real problem for Mr Fraser (and, to a much lesser extent, those who backed him).
Here is another quotation from him. "A new captain is not enough. We need a new ship."
So, again, where now? New captain, same ship - although Ruth Davidson will undoubtedly say that she is determined to order a complete refit which will result in a sleeker, swifter vessel. Notably more yar, to borrow from The Philadelphia Story.
But be assured that the Tories' opponents will, entirely understandably, quote Mr Fraser's words back at him and his supporters.
Where now?
Most observers reckon that Murdo Fraser, as Miss Goldie's loyal and effective deputy, would have won this contest - if only he had suppressed his thoughts about substantial change. Which, he says, would not have been honourable.
And he is, indeed, to be commended for his honesty and courage in making this message the core of his personal manifesto.
Tory members across Scotland took a look at his idea and said no. I met few who were actively, viscerally hostile - although some fell into that category. However, I met many who were unhappy, disquieted.
After all, he was effectively telling them that the party they had supported for years was useless, beyond repair. Scarcely a pitch guaranteed to win affection - and so it proved.
The tensions provoked by this remarkable contest will subside, with the passage of time and the onset of elections.
But this was a fundamental challenge to the very nature of centre-right politics in Scotland. That challenge has been set aside by Tory members. Which leaves the question: where now? A question which can, rightly, be posed both to the winner and the losers in this contest.