SNP's 100% renewable energy plan is 'overambitious'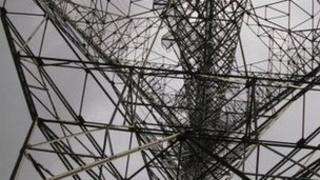 Scotland's Labour leader has said the SNP government's renewable energy targets were "overambitious" and "technically undeliverable".
Iain Gray made the claim at Holyrood's First Minister's Questions where he quizzed Nicola Sturgeon, who was standing in for Alex Salmond.
Mr Gray pointed to a report which said the 100% renewables plan by 2020 could not be justified.
Ms Sturgeon said the Labour leader was "talking Scotland down".
The Institution of Mechanical Engineers report, which Mr Gray was quoting from, said the Scottish government's renewable policy "may increase fuel poverty and turn Scotland from a net exporter to a net importer of energy".
He also highlighted the financial services firm Citigroup's warning to its clients to take a "precautionary approach" to investing in energy projects in Scotland because of uncertainty over the country's constitutional future.
Following on from the Labour leader at question time, Scottish Tory leader Annabel Goldie raised the renewable energy issue with Ms Sturgeon who was standing in for Mr Salmond as he continues his Middle East visit.
The deputy first minister hit back and highlighted the "massive renewables investment currently under way" from companies such as electronics firm Mitsubishi, Spanish wind turbine manufacturer Gamesa and Korean firm Doosan Power Systems.
Ms Sturgeon said: "£750m of new renewable electricity projects began generating in Scotland in the last 12 months.
"There's a pipeline of 17 gigawatts of renewable electricity projects, a total estimated capital investment of £46bn, ready to create thousands of new jobs for Scotland.
"That is the reality and I don't think the stark contrast between Iain Gray and the first minister will be lost on anybody today. The first minister - overseas, fighting Scotland's corner, winning investment for Scotland. Iain Gray - at home, talking Scotland down as usual."
Mr Gray said renewable energy was the SNP's "key policy for Scotland's future" but "they have not got a clue about it".
He went on: "Investors say the referendum makes it unsupportable, and separation makes it unaffordable but the people who actually build the technology on the ground say it is technically undeliverable."
"Last week the first minister had to apologise for misleading parliament, but isn't he misleading Scotland on energy every single day of every single week."
In its report, the Institution of Mechanical Engineers, said the Scottish government policy did not appear to be based on "published strategy or engineering analysis of what is physically required to meet the 2020 target".
Skills base
It said: "There are currently no reliable official figures of Scottish, as opposed to UK, absolute energy consumption (combining heat, transport and electricity) and therefore nothing on which to base the percentage targets.
"The 100% target would require renewable energy capacity to be built at five times the rate of the last decade over the next nine years, despite the fact that all the best sites for on-shore wind have already been taken.
"There are still many unknowns for off-shore wind and Scotland currently lacks the skills base and manufacturing base to make this happen."
The report added that Holyrood was "focusing on the wrong sector of energy consumption".
It advised: "By 2020, electricity is projected to make up just 21% of total Scottish energy consumption, whereas heat and transport will make up 49% and 30% respectively.
"It would be more effective to focus on a wider range of sectors and reduce demand through energy efficiency measures rather than increase the supply of electricity from renewables."