Ian Davidson row email 'went too far'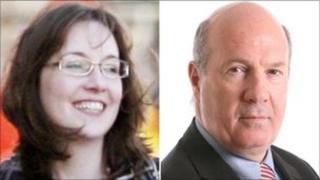 The convener of the SNP's student wing has admitted to a mistake after sending an email related to the spat between the party and Labour MP Ian Davidson.
Nationalist MP Eilidh Whiteford previously withdrew from Westminster's Scottish affairs committee, over claims she was threatened by Mr Davidson.
Gail Lythgoe was accused of trying to smear Mr Davidson in an email to academics, which was leaked.
She has now said she went "further than I should have done".
Labour welcomed the comments, but said there were still questions to be answered.
The war of words between the SNP and Labour began after Ms Whiteford alleged Mr Davidson, the MP for Glasgow South West, said she would get "a doing" if discussions from a behind-closed-doors meeting of the committee were leaked to the media.
Mr Davidson denied making any threatening remarks, and later apologised for "any offence that might have been caused".
It later emerged Ms Lythgoe, who also works as a researcher for SNP MSP Joan McAlpine, had sent an email to the Scottish Women's Budget Group, which promotes gender equality, in which she was said to have described Mr Davidson as having a "history of bullying and intimidation, particularly towards females" and called on members to protest.
In a statement released by the SNP on Tuesday evening, Ms Lythgoe said: "As a young woman, I was angered by Mr Davidson's comments to Eilidh Whiteford and sought to demonstrate against them.
"I regret that, in my email, I went further than I should have done."
An SNP spokesperson said that, on the day when Scottish Liberal Democrat leader Willie Rennie was forced to apologise for comments his press office made about First Minister Alex Salmond, "it is surely time for all political parties to take a step back and remember that the issues that matter to people most are jobs, crime and the future of Scotland".
Labour MSP Paul Martin, said: "I am glad Gail Lythgoe acknowledges her behaviour was unacceptable.
"It follows that the SNP must take robust disciplinary action to root out these behaviour from their party and serve as a clear sign that smears are unacceptable.
"The case for a full investigation into the ethics and operation of the SNP student wing is now unanswerable."
Mr Martin also said Ms McApline must clarify what she knew of her researcher's actions, adding: "There is a dark side to how some in the SNP use the cover of the internet to spread smears."