Will the SNP be the new pioneers?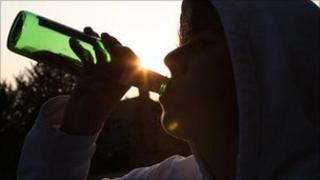 Pioneering is by definition an uncertain business.
So it is with minimum pricing for alcohol.
As Scotland prepares to become the first country in Europe to introduce the policy, evidence of precisely what it will achieve is thin on the ground.
This doubt is recognised by the Scottish government.
Health Secretary Nicola Sturgeon told last month's SNP conference in Inverness that "being first with a policy means that it comes with no absolute certainties".
And a government source with detailed knowledge of the proposed legislation admitted there was "not a great deal of empirical evidence" about minimum pricing itself.
But ministers insisted that there was strong general evidence linking cost with consumption.
That, they argue, is basic economics. If it wasn't, the roads would be clogged with Ferraris.
But the nuances of Scotland's drink problem mean the debate is complicated.
The SNP have garnered a formidable array of supporters for the policy including doctors, police, publicans and brewers.
They cite statistics including;
alcohol sales in Scotland are 23% higher than in England and Wales
one in 20 deaths is linked to alcohol
and the overall social cost to the country of drink is £3.56bn every year
A minimum price would, they say, raise the price of some of the cheapest, strongest spirits.
But opponents, including the Labour Party and the Conservatives, are not convinced.
Downward trend
They point to figures which suggest Scotland's alcohol crisis may have peaked.
Although there was a slight rise in alcohol-related deaths in 2009/2010, the recent trend appears to be downwards.
The proportion of drinkers exceeding their recommended weekly alcohol limits declined between 2003 and 2010; and the number of people going to hospital because of drink has fallen for the past two years.
Labour has four main objections to the policy;
it doesn't cover some of the strongest alcohol
the experience of illegal drugs suggests addicts will not be deterred by price
it will provide a windfall for supermarkets which would be better spent on the NHS
and it may be illegal under EU law on free trade
The SNP retort that Labour had plenty time in power to do something about Scotland's booze culture and failed.
Ministers accept that this was not a "silver bullet".
But they say it's worth a try.