Scottish Greens accuse SNP of climate 'hypocrisy'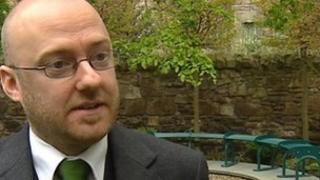 The co-convenor of the Scottish Green Party has accused the Scottish government of "hypocrisy and double-speak" on climate change.
Patrick Harvie was addressing the party's annual conference in Aberdeen.
He claimed the SNP was trying to run a high-carbon and a low-carbon economy simultaneously.
He also urged delegates to campaign for breakthroughs in next year's council elections and learn lessons from Brighton, where Greens run the council.
In his key-note speech Mr Harvie said: "Alex Salmond now has a very clear and simple choice - he must either fail on Scotland's much-vaunted climate change targets, or he must drop his unconditional support for the fossil fuel industries.
"First, the new coal-fired power station at Hunterston must be blocked. Then he must rule out shale gas extraction, which his energy minister has refused to do.
"Then, because CCS [carbon capture and storage] can never be applied to most uses of oil anyway, he must drop his support for dangerous deepwater oil drilling in Scottish waters."
'Political bubble'
Mr Harvie concluded his speech by challenging his party to campaign to make a "real difference" in the Scottish council elections.
He said: "It's not enough to be right. It's not enough to have policies we know will benefit Scotland and the world. It's not enough to make a difference inside the political bubble.
"If we're going to make a real difference in Scottish politics, the difference we know is needed, we need to reproduce what the Brighton and Hove Greens have done."
The leader of Brighton and Hove City Council, Cllr Bill Randall, was among other speakers due to address the Scottish conference.