Lord Steel issues independence referendum warning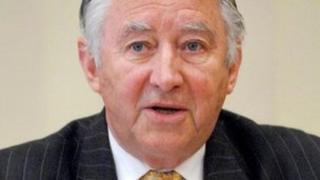 Confusion over a two-question referendum on Scotland's constitutional future could risk a legacy of bitterness, it has been warned.
The SNP believes support for independence would override support for increased devolution of powers - even if "devo max" was more popular.
Former Holyrood presiding officer Lord Steel said a poll with "no clarity or justice" could make the result unclear.
The Scottish government said a Yes-Yes vote would be a vote for independence.
Lord Steel pointed to the 1979 devolution referendum, which had a qualifying limit for support. Even though a majority backed devolution, the proposal fell.
The Liberal Democrat peer said: "It is astonishing to see, more than 30 years later, proposals that could make the result of the next referendum unclear.
"The bitterness and frustration will been seen again in Scotland if a landslide of voters choose further devolution but they get defeated by a less popular option of independence."
He added: "The Scottish government now have to set out far more clearly the answers to the challenges people are posing them.
"The last thing we want is for the Scottish government to make the same mistakes that were made in 1979 and have a referendum where there is no clarity or justice to the result."
A spokesman for First Minister Alex Salmond said: "A majority voting Yes to 'devo max' and Yes to independence - as outlined in the draft Referendum Bill in February 2010 - would be a clear vote for independence.
"It is the exact opposite of the rigged 1979 referendum, in which a narrow but unambiguous majority for devolution was overturned.
"The precedent of the 1997 referendum is very clear - people voted Yes to a parliament and Yes to tax-varying powers, and therefore a parliament with tax-varying powers was delivered."
Labour leader Iain Gray told his party's conference on Saturday: "The truth is Alex Salmond knows he can't get his first question past the Scottish people. And he knows he can't get the second one past the SNP."