Final run for Bella and Alex show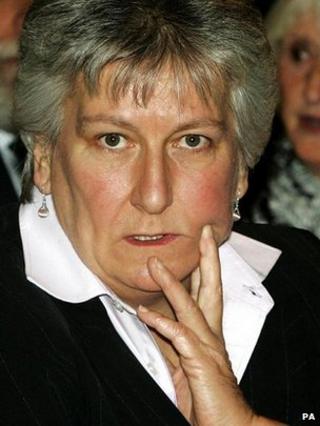 It was part awards ceremony and part school leavers' day. It was meant to be questions to the first minister.
Still, I am decidedly inclined to be generous. The Bella and Alex show has been a constant source of innocent merriment to those of us who broadcast Holyrood to an astonished nation.
Plus there have been some substantial exchanges to inform as well as entertain.
Today was Annabel Goldie's last chance to quiz the FM. (He's away on a trade visit next visit: she stands down as leader after that.)
The merely cynical will note that their warm relationship was partly founded on the fact that the Tories supported the SNP budget during their period of minority rule.
But I believe there is/was much more to it than that.
Firstly, she plainly concluded that the only thing to do as the Tory slump persisted was to lace her contributions with humour.
Secondly, she is a genuinely droll and witty woman.
Thirdly, Alex Salmond - again authentically - warms to her.
It is possible, contrary to common perception, for there to be cross-bench friendships and mutual respect.
In any event, Mr Salmond offered hearty congrats to his Tory opposite number. She had, he suggested, maximised the possible Tory vote. (What! You mean it could have been worse?)
She was, he said, well-liked and respected with a personable, pleasant manner.
Enthused by the warm glow pervading the chamber, Presiding Officer Tricia Marwick offered Miss Goldie an extra question - "because I'm all heart".
Miss Goldie duly responded by calling Alex Salmond "the prime minister." Not yet, shouted gleeful lieges.
"Don't encourage him", yelled Murdo Fraser, Miss Goldie's would-be successor.
In general, then, they chortled. Miss Goldie opined that she too had enjoyed their exchanges. (My personal favourite is when she advised him that "patting yourself on the back doesn't count as exercise".)
However, the atmosphere of happiness didn't - for now - extend to Mr Salmond's other main rival, Iain Gray, who is due to depart on a slightly more extended time scale.
Challenged by Mr Gray on college cuts and related matters, Mr Salmond stressed his party's pledges - but also, more than once, noted that the SNP had won a large majority in the May election.
His point seemed to be that Mr Gray was scarcely in a position to challenge the SNP - when the Nationalist manifesto (and, presumably, record) had been so substantially endorsed by the people.
Which is a point, as far as it goes. But it cannot be taken too far.
Mr Gray is not the first minister. I suspect he is well aware of that.
However, he does lead the largest opposition party and, as such, is entitled to pose questions to the elected government.
I am not sure that Mr Salmond greatly advanced his cause by advising Mr Gray: "Just learn to live with it!"