Davidson apology over MP remarks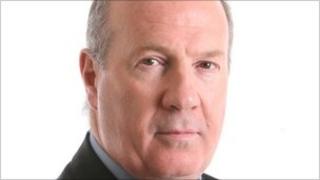 And so Labour's Ian Davidson has apologised for his obiter dicta aimed at the SNP's Eilidh Whiteford in the Scottish affairs committee at Westminster.
Or, more precisely, he has apologised for "any offence that might have been caused". Mr Davidson, who chairs the committee, resolutely denies issuing any threats.
So what was said? Or not said? Or allegedly said?
It is suggested Mr Davidson indicated, in private session, that Ms Whiteford would be in receipt of a "doing" if she leaked committee deliberations.
There were initial efforts to clarify the issue by insisting that the comment had not been made in a sexual context.
Then it was said on Mr Davidson's behalf that there was no threat implicit or explicit in any comment made.
Unaccountably, Ms Whiteford seemed to feel that these clarifications were - how can one put it - rather less than clear. She withdrew from the committee's deliberations, seeking redress.
At Holyrood, her party leader went further. Alex Salmond said that Mr Davidson should step down from the convenership of the committee.
At the opening of the committee's session this afternoon, Mr Davidson duly issued his apology.
Critics of the SNP say that the controversy is designed to undermine the committee - whose workload includes an inquiry into "Scottish separation".
Drivel, responds the SNP. This is about dealing with the treatment of an individual by another, of a female by a male.
Critics say further that the complaint took some time to emerge.
Ms Whiteford says she raised it - privately - with the committee clerk the morning after the incident occurred.
After trundling through official channels, it has now come into the spotlight.
'Smear the chair'
And there's more.....
Labour has now urged an inquiry into what they believe is a "dirty tricks" campaign mounted by the SNP.
They say there has been a "deliberate attempt to smear the chair of the committee which brings politics into disrepute".
How so? They say that Mr Davidson has made clear that he issued no threat nor intended to threaten anyone.
They say that position was endorsed at this afternoon's meeting by MPs from other parties.
Further, they emphasise the point that there was a gap between alleged incident and the complaint emerging.
If, they say, there was an insult or a threat issued at the committee, why was that not raised immediately - at the committee?
Mr Davidson, they say, merely offered an apology today in the event that anyone had inadvertently - and wrongly - taken offence.
The background, say Mr Davidson's supporters, is the decision to hold an inquiry into independence or separation, as the committee calls it.
Those same supporters say that several members of the committee - where Eilidh Whiteford is the sole Nationalist - were upset at what they believed had been premature disclosure of the committee's plans.
According to this version, several members chided her in relatively robust - but, they say, fair - terms.
Still according to this version, Mr Davidson then summed up to the effect that Dr Whiteford had had a "doing" from her colleagues - and it was time to move on.
Past tense demotic. Not future tense threatening. Labour's official verdict is that it is "never right to threaten a person - and it is never right to smear one either".
The Nationalists say Dr Whiteford stands by her complaint and will not be rejoining the committee for now.