2011 election 'well run', says Electoral Commission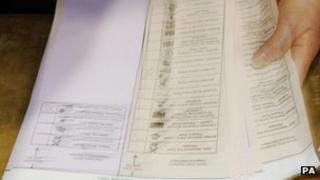 There has been major improvement in running Scottish Parliament elections in the wake of the 2007 voting fiasco, the electoral watchdog has ruled.
The Electoral Commission said the 2011 Holyrood poll was "well administered", but warned against future complacency.
It also recommended the new elections convener post be put on a stronger, statutory footing.
Problems on election night in 2007 resulted in count suspensions and more than 140,000 rejected ballots.
On 5 May, people across Scotland went to the polls to elect their local and regional MSPs, as well as vote in the referendum on changing the Westminster voting system.
A total of 97% of voters found the 2011 Holyrood ballots easy to fill in, compared with 82% in 2007, according to an ICM poll of 1,001 voters conducted between 7 and 23 May.
And there was a 10-fold fall in the number of spoilt ballots compared with the 2007 election, which is currently overseen by the UK government.
'Real test'
Publishing his findings on the running of the 2011 poll, John McCormick, electoral commissioner for Scotland, said: "On 6 May, everyone in Scotland was talking about the result of the election instead of the administration.
"That's the way it should be - rightly about voters and their choices."
Mr McCormick added: "The Scottish Parliament election was a real test for the work which has taken place since 2007 on making sure that ballot papers are easy for voters to complete and strengthening the co-ordination of elections in Scotland through the creation of an Electoral Management Board for Scotland, led by an elections convener.
"I am pleased to record that the hard work has been worthwhile."
Mr McCormick also said that although the elections convener has the ability to direct returning officers in council elections - which are run by the Holyrood parliament - the powers did not extend to any other elections in Scotland.
"I would urge governments to legislate to provide the convener with a power of direction for other elections before the next Scottish Parliament election in 2016," he added.
In 2007, the Holyrood and Scottish council elections took place on the same day, and saw the introduction of a new design of ballot paper for the parliament vote and a new voting system for the council seats.
A BBC investigation later found tens of thousands of votes in the Holyrood election were rejected by the electronic counting machines without any human adjudication.
The Electoral Commission brought in Canadian elections expert Ron Gould to investigate, concluding voters were "treated as an afterthought".
There were a number of other changes brought in as a result, including separating the dates of the Holyrood and council elections, which will take place next year.
In addition, there were changes to the appearance of list ballot papers, and there was no electronic counting in the 2011 poll, which resulted in the SNP winning an overall majority for the first time.