David Cameron in Commons plea over Stuart Walker murder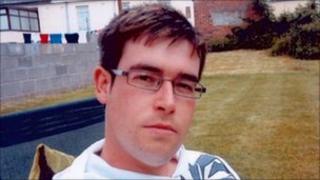 Prime Minister David Cameron has urged the public to help solve a murder in an Ayrshire town.
During Question Time in the House of Commons, the Tory leader expressed his sorrow at the death of Stuart Walker after a vicious attack in Cumnock.
Police have played down claims he was killed for being gay, but said no clear motive had been established.
Mr Cameron said the police needed the public's help and that he hoped they would co-operate.
Mr Walker's body was discovered just before 05:00 on Saturday on Caponacre industrial estate.
It was thought the 28-year-old had been beaten and burned.
Speaking at Prime Minister's Questions in the Commons, local MP Sandra Osborne said: "My constituency is in a state of shock following the very brutal murder of a very popular local man, Stuart Walker."
The MP for Ayr, Carrick and Cumnock condemned "unhelpful speculation" about why Mr Walker was killed and encouraged people to come forward with information.
Mr Cameron said: "It was once said that the police are the public and the public are the police.
"The police cannot solve crimes without the help of the public and I hope everyone will co-operate in the best way they can."