Labour MP Ian Davidson says sorry to select committee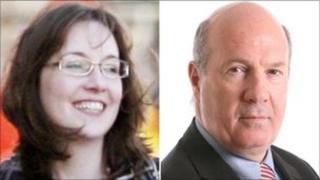 A Labour MP who was accused of making a bullying remark has apologised for "any offence that might have been caused".
SNP MP Eilidh Whiteford alleged that Ian Davidson threatened her during a private hearing of the Scottish Affairs Select Committee.
Mr Davidson said sorry at the start of the new session of the committee, which he chairs.
However, the Glasgow South West MP continued to deny that any remark he had made was threatening.
He made his comments at the beginning of the committee session and was supported by Labour, Conservative and Liberal Democrat MPs.
The Labour Party conducted an investigation after Ms Whiteford withdrew from the committee following her accusations.
She alleged that Mr Davidson said she would get "a doing" if the discussions from a behind-closed-doors meeting of the committee were leaked to the media.
Ms Whiteford, who is the MP for Banff and Buchan, made her complaint to the Speaker of the House of Commons, John Bercow.
In a statement, Ms Whiteford explained that she remained unhappy.
She said: "This was an empty apology from Ian Davidson who clearly, still, does not recognise why his comments during and after last week's meeting were inherently threatening and unacceptable."
She added that until Mr Davidson "took responsibility for his behaviour" she regretted that she would not be returning to the committee.