Ex-Labour leader McLeish plea to halt SNP 'bulldozer'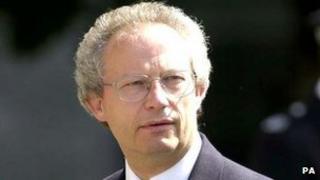 A former Scottish Labour leader said his party needed to focus on its vision for Scotland in order to stop the SNP bulldozing its way to independence.
Henry McLeish told BBC Scotland that Labour should engage in a debate about the country's future with its people.
He said the SNP was in control of a "one-way constitutional street".
After winning an overall majority at Holyrood in May, the nationalists promised an independence referendum towards the end of its five-year term.
Former first minister Mr McLeish said: "I think first of all we have a serious debate. The referendum is two or three years off and one thing is clear the independence vote cannot be won by the SNP.
"What Labour needs to do is take a wider view because it is not ok to just say we are against an independent Scotland."
He posed the question: "What does Labour stand for?"
Mr McLeish said his party needed to ask itself what its vision for Scotland was in "this early part of the century".
He also urged it to look at how to transform the current union deal.
Mr McLeish has voiced disagreement with some in his party who believe that so-called "devolution max" is not the way forward.
He said he did not agree that so-called devolution max, or full fiscal autonomy, was independence by stealth.
On the final day of the SNP's four-day conference in Inverness, the official drive for independence was launched.
Campaign chief Angus Robertson told delegates that the SNP would appeal to people from all political backgrounds to secure a "yes" vote.