Bishop Philip Tartaglia discusses gay marriage plan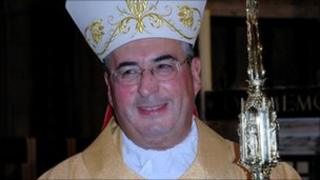 Scotland's health secretary has met with a Catholic bishop to discuss his concerns on proposals to legalise same-sex marriage.
Nicola Sturgeon's meeting with the Bishop of Paisley, Philip Tartaglia, took place in Edinburgh.
The government is holding a 14-week consultation asking if marriage should be allowed for gay people through a civil or religious ceremony.
Ms Sturgeon said all views on the matter would be listened to.
Currently same-sex couples can have a civil partnership carrying full legal rights, but the ceremony cannot be conducted in a church or other religious premises.
Ministers said the proposals would ensure religious organisations do not have to register same-sex marriages against their will, but the idea was met with outcry from the Catholic Church.
Bishop Tartaglia sent a strongly-worded submission to the Scottish government and has already met First Minister Alex Salmond to discuss his concerns.
He believes governments "do not have the authority to say what marriage is or to change its nature or to decree that people of the same sex can marry".
Thanked Church
Speaking after her meeting with the bishop, Ms Sturgeon said: "When I launched the consultation on same-sex marriage, I made clear that in addition to carefully considering the written responses, we intended to meet a wide range of organisations, including churches and faith groups.
"I also made clear that while ministers tend towards the initial view that same-sex marriage should be introduced, faith groups and their celebrants should not be obliged to solemnise same-sex marriage.
"We also gave an assurance that all views will be listened to, no final views have been reached and no decisions have been taken.
"I therefore welcome today's meeting with the Catholic Church which gave me an opportunity to hear the Church's views and concerns about the consultation, while also enabling me to repeat such assurances."
Ms Sturgeon thanked the Church for raising awareness of the consultation, and said her "door would be open" for further discussions.