SNP MP alleges Ian Davidson made 'doing' remark
By Tim Reid
Westminster correspondent, BBC Scotland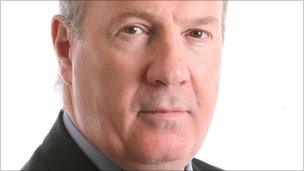 An SNP MP has withdrawn from a Commons committee over allegations that she was threatened by its Labour chairman.
Dr Eilidh Whiteford, the MP for Banff and Buchan, has made a formal complaint to the Commons speaker.
It is understood her complaint centres on a meeting of the Scottish Affairs Select Committee in private session last week.
Ian Davidson MP is alleged to have told her he would give her "a doing" if the discussions were leaked to the media.
A Labour spokesman said: "We will look carefully at these allegations and will make a full statement tomorrow." Mr Davidson has so far been unavailable for comment.
BBC Scotland understands that officials on the committee raised the allegation with the clerk of committees, the most senior official in charge of Westminster's select committee system.
It is claimed that the exchange came during a heated discussion on the conduct of the committee.
But one Tory member on the committee, Simon Revvell, said he did not remember the alleged incident
He said: "I was quite surprised at the allegation because I wasn't aware of anything being said at the time."
The SNP's Westminster leader Angus Robertson accompanied Dr Whiteford to see Speaker John Bercow to complain about the alleged remark, and of bullying on the committee.
Dr Whiteford recently complained about the twin inquiry announced by Mr Davidson into the Scottish government's plans for an independence referendum.
At the time she described it as a "sideshow" and claimed it would be a "a partisan and pejorative inquiry".
Dr Whiteford has contacted all members of the cross-party committee informing them that she is "withdrawing" from the work of the committee until Mr Davidson has relinquished his position.
She has stressed that she is not resigning from the committee, but will not attend its proceedings until the situation is resolved.
In her letter to MPs she said: "I do not believe this behaviour is compatible with the position of chair of a select committee, and therefore do not intend to return to the committee while Mr Davidson remains in that role."