Titian masterpiece will receive 'no more public money'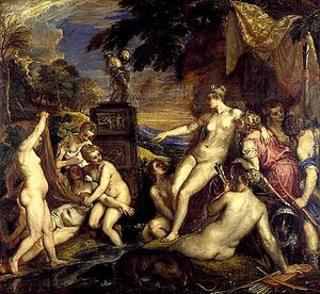 The Scottish government has said it will not make a contribution towards securing a second masterpiece of Western art for the nation.
The National Galleries of Scotland (NGS) and the National Gallery in London have until the end of next year to buy Titian's Diana and Callisto.
Its companion piece, Diana and Acteon, was bought for the nation with the help of £12m from the Scottish government.
A spokesman said there were "no additional funds" for major purchases.
The government added it had ensured the long-term loan of the "important Bridgewater Collection to Scotland for another generation".
But the spokesman added: "Since 2008, successive culture ministers have made it clear that this government has made its contribution to the campaign.
"We wish the NGS every success with their efforts to secure the other Titian painting, Diana and Callisto.
"However, with a 57% cut to the culture portfolio capital budget over the next three years, there are no additional funds available for major purchases."
The Duke of Sutherland has put Titian's Diana and Callisto up for sale with a price tag of about £50m.
That painting, and its pair Diana and Acteon, were produced in the 1500s by Renaissance artist Titian - full name Tiziano Vecelli - and considered to be among his greatest works.
The Bridgewater Collection is considered the most important private collection of Old Master paintings on loan to a UK institution in the UK.
Included are masterpieces by artists such as Raphael, Titian, Rembrandt and Poussin.
The pictures have been on continuous public view in Edinburgh's National Gallery of Scotland since the collection was placed there in 1945 by the then 5th Earl of Ellesmere, later 6th Duke of Sutherland.