Coalition plays down Scottish independence vote role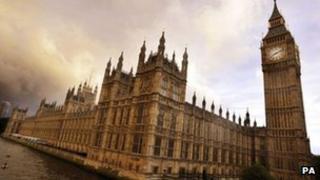 The UK government has described as "speculation" reports suggesting it was looking at holding a referendum on Scottish independence on its own terms.
The Tory-Lib Dem coalition was said to want the support of Labour for a one question referendum.
A spokesman for the Scotland Office said the report in the Scotsman newspaper was "entirely speculative".
The SNP's Stewart Maxwell said the Westminster parties were "clearly panicking" over the independence issue.
The MSP added that such an "outbreak of sabre rattling" was a "bad blunder".
Mr Maxwell said: "This latest story just underlines the extent of Westminster's incoherence - a government source is briefing that London is plotting to take away the democratic rights of Scotland's Parliament, Downing Street is furiously denying the story, and William Hague is writing that this is not the right time to have a referendum, on Europe.
"This plays right into our hands, because every time Westminster threatens to trample over the mandate of the people and government of Scotland to deliver a referendum in the second half of this parliament, support for the SNP and independence gets a big boost."
The Scottish government, which was elected in May, will stage an independence referendum towards the end of the five-year parliament.
It has come under fire from opponents, who say SNP ministers are delaying the referendum because they are scared of losing.
They have also claimed the SNP's tacit support for the alternative of full fiscal responsibility, known as "devolution max", which may be included as a second question on the ballot paper, is a "failsafe option" for the party.
A spokesman for the UK government said that the Prime Minister David Cameron was clear that the Scottish government should publish details of its referendum as soon as possible.
The call for one clear question has come from Conservative Annabel Goldie, who has made one of her final addresses as Scottish Tory Party leader.
She told members of the Scottish Conservative's West of Scotland Conference: "Whether it's now or whether Salmond runs scared and it's delayed, referendum there will be.
"And that referendum must have a clear question. Do you want to stay part of the United Kingdom? Yes or No. And no cop out option with a muddled or confusing question.
"I will never tire of making the case for Scotland in Britain. I will share a platform with all those who back this cause. It is bigger and more important than any one politician or any one political Party. I may be going as leader, but I will stay on in politics to fight for my country."