Alex Salmond opens SNP's annual conference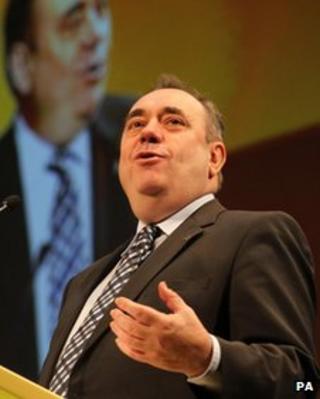 SNP leader and Scottish First Minister Alex Salmond has opened his party's conference, urging Scots to be part of the "independence generation".
He told delegates in Inverness the party had won an unprecedented mandate from voters, in the wake of its landslide election win in May.
The Scottish government will hold an independence referendum towards the end of the current five-year parliament.
Mr Salmond also said independence could help end fuel poverty.
Delivering his opening remarks to the conference, the SNP leader said the party was in "great spirits", adding: "A change is coming, and the people are eager for progress for Scotland - something that none of the unionist parties acknowledge or allow for.
"And Scotland's vast energy reserves can power our future as an independent nation.
"Fuel poverty amid such energy plenty in Scotland makes it essential that our national parliament gains responsibility for the nation's abundant resources."
Mr Salmond contrasted the sale of the former Nigg fabrication yard in the Highlands to Global Energy Group for redevelopment to the Westminster government's move to scrap the UK's first carbon capture project, in Fife.
He said: "The SNP government's efforts to secure such investment from around the world stand in stark contrast to the lack of commitment to Scotland's energy future from the UK government - as with their shameful decision to pull out of the Longannet carbon capture project."
The first minister, who will deliver his main conference speech at the weekend, added: "Oil revenues are running at record levels - with North Sea oil set to be around for 'many, many years' to come according to David Cameron - we are leading the global revolution in clean, green renewable energy, and we can and should be at the cutting-edge of pioneering carbon capture technology.
"All of that massive potential means Scotland must gain responsibility for our own resources with independence.
"And with the support of growing numbers of Scots, of all ages and all backgrounds, this can be the independence generation."
The Scottish government has come under opposition pressure to hold the independence referendum now, but ministers said they would be sticking to a manifesto commitment on the timing of the vote.
And the SNP has also set a target of doubling its membership to almost 40,000 before the referendum.
The SNP also thanked voters for "placing their trust" in the SNP and helping to deliver Scotland's first majority government in the election.