Fundraiser 'will not back' Scots Conservative breakaway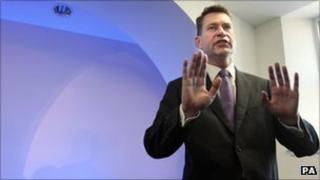 A major fundraiser for the Scottish Conservative Party has warned it will not bankroll an organisation which breaks away from the UK party.
The Focus on Scotland group has given about £1m to the Scottish Conservatives in the past three years.
Leadership contender Murdo Fraser has unveiled plans to create a new separate centre-right party. He said there had been interest from potential backers.
However, other candidates branded the move damaging and a miscalculation.
Focus on Scotland, whose chairman is businessman Sir Jack Harvie, said Mr Fraser would have no authority to dissolve the Scottish Conservative Party and that such a decision would have to be taken by individual members.
It also said that if a new party were to be created, then it would continue to fund the existing party.
Mr Fraser has launched his official campaign with pledge to "build a new and stronger party".
The MSP said: "For those people who think this is a leap in the dark, let us remember that our most successful electoral period as a party came before 1965.
"We were not the Conservative Party then. We were a party which had a distinct Scottish identity.
"This new party will take us back to our roots."
Speaking on BBC Radio's Good Morning Scotland programme ahead of his launch, Mr Fraser said: "Let me be clear, I'm not talking about disbanding the party.
"What I'm talking about is building on what we've got, building a new progressive, centre-right movement, with a distinct Scottish identity."
Mr Fraser said there had been expressions of interest in the concept of a new party from financial backers "past, present and future".
In a statement Sir Jack said: "Focus on Scotland is the vehicle that currently provides the majority funding for the Scottish Conservative and Unionist Party (SCUP).
"This funding arrangement would most certainly not apply to Mr Fraser's breakaway party."
Sir Jack also challenged Mr Fraser on whether he would form a breakaway party if he fails to win the leadership.
"For having scandalised SCUP by word and deed they would surely have no place within SCUP in the future!" he added.
Campaign 'miscalculation'
Ms Davidson also warned the proposals would be damaging for the Scottish Conservatives.
The Glasgow MSP is expected to make a formal announcement about her bid to be leader later this week.
The third candidate, Jackson Carlaw MSP, launched his campaign on Friday with a demand for an early referendum on independence.
Mr Carlaw said Mr Fraser's call for a debate about the party's name was a miscalculation and an example of "Holyrood ivory tower" politics.
Mr Carlaw said: "We stopped being the Tory Party in 1841 - 170 years later, despite our name change, we are still known as 'the Scottish Tories'."
He added: "I want to unite the party behind a recovery led by the sustained development of policies which will make a difference."
But Alex Fergusson, MSP for Galloway and West Dumfries, said the proposal was about more than a name change.
He told BBC Radio Scotland's Call Kaye programme: "This is about the future of a right of centre party in a devolved United Kingdom, focusing on Scottish interests and what is best for Scotland in a completely new structure."
He added: "We haven't even been treading water, we've been slowly sinking, there is a desperate need for a radical new agenda."
Annabel Goldie announced she would step down as Scottish Conservative leader after the party's poor performance at the May election.