Labour MP Tom Harris may bid to be Scottish leader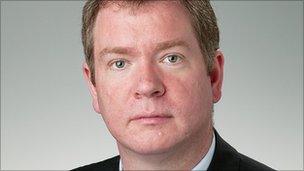 Glasgow South MP Tom Harris has stated his interest in becoming the new Labour leader in Scotland.
Iain Gray announced that he would step down as leader following the party's disappointing performance in May's Scottish Parliament election.
Labour's deputy leader at Holyrood, Johann Lamont, had been seen as favourite to succeed Mr Gray.
Mr Harris said he still hoped a senior MP such as Jim Murphy or Douglas Alexander would stand as a candidate.
But he said he would be interested in competing for the post "if the party would be interested in having me".
Mr Harris said he had been prompted to consider standing because of a lack of candidates emerging from Labour's ranks at Holyrood.
He said: "The reason I have allowed my name to be mentioned in the speculation about this is purely and simply because we lost in May.
"Iain Gray announced he was standing down in September, which is next week, and I don't even know if that's going ahead."
Speaking on BBC Radio Scotland, Mr Harris was critical of the lack of debate about Labour's future leadership in Scotland.
"I think this amount of time after the election when we did so badly, it is truly bizarre and very damaging to the party not having a leadership campaign," he added.
The Scottish Labour Party confirmed that Mr Gray would remain as leader for the moment.
A spokesman said: "Labour's leader at present is leader of Labour in the Scottish Parliament, which obviously has to be an MSP.
"However, Jim Murphy and Sarah Boyack are currently chairing a comprehensive review of the Scottish Labour Party and any recommendations on changes to the appointment of leader will be made in the autumn.
"So far, a wide range of views have been submitted.
"Iain Gray has agreed to stay on to ensure a smooth transition to the new leader."
Related Internet Links
The BBC is not responsible for the content of external sites.