Alex Salmond releases Rupert Murdoch letters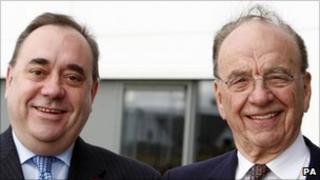 Scotland's first minister and Rupert Murdoch were on first name terms, newly released letters have shown.
Alex Salmond has unveiled his dealings with the company at the centre of the phone hacking scandal after continued calls from opposition parties.
The document lists all his meetings with members of the media over the past four years, including 25 with members of News International.
The most recent was in June, just as the phone hacking scandal erupted.
The first minister, who is the only party leader to release copies of correspondence with Mr Murdoch, described his meetings with members of News International as "perfectly proper and reasonable".
However, Scottish Labour leader Iain Gray criticised the "seducing" of Mr Murdoch and News International as "highly questionable behaviour by Scotland's first minister".
Mr Gray said: "It has been a top priority and he has spent more of his media time in the last year with News International than any other party leader in Britain.
"Now it is clear why Alex Salmond has been so reticent about criticising News International during the phone-hacking scandal and reluctant to publish details of his meetings with them."
Scottish Liberal Democrat leader Willie Rennie MSP said the SNP had been "extremely willing to cosy up to executives at News International".
"The blatant sycophantic behaviour laid out for all to see should make the first minister squirm," he said.
"The crucial letter following the meeting in January does not contain one mention of Alex Salmond quizzing James Murdoch about phone hacking.
"Why did he not ask these critical questions and just how low did he have to stoop to secure News International's support?"
The list of meetings released goes back to 2007, shortly after the SNP first took office.
Letters between the two men revealed that they met in New York in October 2007.
'Insightful' views
After the meeting, Mr Salmond wrote: "I enjoyed our conversation and, as ever, found your views both insightful and stimulating."
He went on to explain a venture known as GlobalScot, which encourages successful Scots abroad to help boost the nation's economy.
The Scottish National Party leader also invited Mr Murdoch to the Ryder Cup in Kentucky as part of the Scottish delegation, offering to pay for the media boss' accommodation and tickets.
A spokesman for the first minister said the package was part of a pre-arranged deal with Ryder Cup organisers and not an additional extra specifically for Mr Murdoch, who declined the invitation.
Details also reveal exchanges with Mr Murdoch's son James after a meeting in London in January.
Mr Salmond wrote: "I appreciated the opportunity to meet and thought our conversation on business opportunities for BSkyB in Scotland most useful."
Other letters show attempts to bring Rupert Murdoch to Scotland as guest of honour at the Gathering, a cultural celebration intended as the centrepiece of the Year of Homecoming.
The first minister said it would offer a great spectacle for coverage by Sky television.
'Hypocritical attacks'
After this year's election landslide, News International's general manager in Scotland, David Dinsmore, congratulated Mr Salmond.
The letter said: "I look forward to News International playing its part in helping to make the country a place where outward looking, forward thinking and risk-taking are the norm."
The Sun newspaper, owned by News International, switched from outright opposition to the SNP before the 2007 election to support for the party at the recent election in May.
A spokesman for Mr Salmond said "Labour's hypocritical attacks have come totally unstuck".
"The SNP government has released more information, for a longer time period, than either the UK government or any other party," he said.
"And it demonstrates that all of the Scottish government's meetings with all the media are perfectly proper and reasonable."
He said the correspondence focused on boosting jobs, investment and economic activity in Scotland.
"Ed Miliband, David Cameron and Nick Clegg have all met Rebekah Brooks more often in one year, including at the oyster-and-champagne garden parties, than Alex Salmond has in four years," he added.
"Ed Miliband had four meetings in one year with the News of the World editor, compared to Alex Salmond's one meeting with the Scottish editor in four [years]."