MSPs told Supreme Court defends Scots' human rights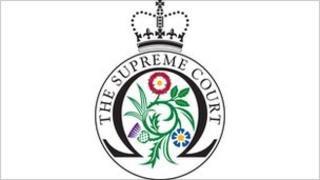 The Scottish Human Rights Commission has intervened in the continuing row over the role of the UK Supreme Court.
The commission, which was established by an Act of the Scottish Parliament, has sent an open letter to MSPs, defending the role of the court.
It said that as long as Scotland was part of the UK there was a need for the Supreme Court.
It followed criticism by Scottish ministers at decisions of the London-based court in two controversial cases.
The commission's letter said the discussion about Scotland's relationship with the UK Supreme Court should be about principles and their practical application.
It said: "The promotion and protection of the human rights of everyone in Scotland must be central to the discussion."
Domestic remedy
Scottish government ministers have insisted they will continue to safeguard the human rights of everyone in the country.
But they said Scots should take any disputes to the European Court of Human Rights (ECtHR) rather than have Scots law adjudicated by the court in London.
But the Scottish Human Rights commission said applying to the ECtHR was no substitute for an effective domestic remedy.
It said: "The Supreme Court upholds a point of principle in the law - that the human rights of everyone in the UK should be equally protected in law as long as Scotland is part of the UK and the UK is a member of the Council of Europe and signatory to the European Convention on Human Rights.
"Those living in Glasgow should enjoy the same protection as those living in Gateshead and vice versa."
Advocate-general Lord Wallace, a minister in the UK government with responsibility for Scots law, has published the results of a consultation on the role of the Supreme Court in Scottish cases.
It brought forward a unanimous recommendation that there should continue to be a right of appeal to the Supreme Court on human rights grounds in Scottish criminal cases.
But the Scottish government has convened its own expert panel under retired judge Lord McCluskey to examine the question as increased devolved powers are being sought for Scotland in a Bill before the Westminster parliament.
The Supreme Court has the ability to rule on cases where Scots law conflicts with human rights legislation.
The row about the Supreme Court's role in Scottish criminal cases erupted in May in the case of Nat Fraser.
Five justices in the court in London said Mr Fraser's conviction for the 1998 murder of his wife, Arlene, should be quashed.
Fraser, 52, from Elgin, now faces a retrial.
There is currently a backlog of 150,000 cases at the ECtHR in Strasbourg, and costs of taking a case there are high.
According to SCHR, that means: "The ECtHR is not and should not be seen as a substitute for the individual's right of access to a remedy from domestic courts in Scotland and the UK."