Labour chooses candidate for Inverclyde by-election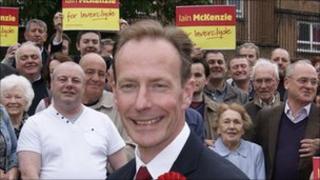 Labour party members in Inverclyde have chosen Iain McKenzie as their candidate to represent the area at Westminster.
A by-election is to be held in Inverclyde following the death of MP David Cairns.
Earlier this week, the Scottish National Party selected former MSP Anne McLaughlin to contest the seat.
Mr Cairns won Inverclyde for Labour last year but the party was run close by the SNP in the equivalent seat at the recent Holyrood elections.
At the general election in 2010, David Cairns, who died in May, won the seat for Labour with a majority of more than 14,000 votes.
But in last month's Scottish Parliament elections Labour's lead slumped to just 511 in the Greenock and Inverclyde constituency.
Mr McKenzie is a former employee of IBM, which is a major employer in Greenock.
He has served as a local councillor since 2003 and has been the leader of Inverclyde Council since February.
Mr McKenzie said he was "deeply honoured" to be selected as Labour's candidate to replace David Cairns.
Following the selection meeting, he said: "This is an election no-one wanted, because David Cairns was a well-respected MP who served people well.
"The next MP has big shoes to fill and I do think we need someone local to do the job."
The SNP candidate was a regional list MSP for Glasgow from 2009 until the elections in May.
She was born in Greenock and grew up in Port Glasgow.
Speaking after her selection, Ms McLaughlin said: "Inverclyde has always been home to me and it would be a great privilege to represent the people of this constituency at Westminster.
"I am looking forward to getting out on the doorsteps and in the town centres from now until the by-election listening to the views of local people and setting out the SNP's positive agenda to bring jobs and opportunities to Inverclyde.
"As a politician who never gives up I can promise my absolute commitment to people in every part of this constituency."
No date has been decided for the by-election.