First minister questions to be overhauled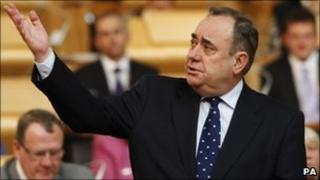 The Scottish Parliament's new presiding officer has announced an overhaul of first minister's questions, giving backbench MSPs more involvement.
Tricia Marwick also said Lib Dem leader Willie Rennie would play a prominent role, despite his party being cut from 16 to five MSPs in the election.
Ms Marwick said all parties must get a chance to hold Alex Salmond to account during the weekly, 30-minute session.
Question time will still begin with slots for the Labour and Tory leaders.
The changes will come into force from the first question time of the new parliament, on 2 June.
They have been brought forward following concern that the main parties were playing too dominant a role in the event, regarded as a highlight of the Scottish parliamentary week.
Outlining her reasons for the changes in a letter to party leaders, Ms Marwick said: "Firstly, the prime purpose of first minister's question time is to hold the Scottish government to account, and I therefore intend to ensure that all of the parties represented on the parliamentary bureau are given the opportunity to do so.
"Secondly, I intend to ensure that backbench members have a greater opportunity to ask questions of the first minister, and more prominence when doing so during the half-hour, weekly slot."
Under the new procedures, Labour leader Iain Gray still gets to ask the first question, with four supplementary questions, while the Tories' Annabel Goldie goes second, and is allowed two supplementary questions.
The Lib Dems, whose previous leader Tavish Scott was guaranteed a question every week in the last parliament, will get to ask the third question for two weeks out of three.
Ms Marwick said question three would go, in the third week, to what she considers to be the "best quality question" from a backbench MSP, regardless of party.
And she intends to take constituency and other questions of a local nature sooner than has previously been the case.
Ms Marwick, who resigned from the SNP to take on the politically-neutral presiding officer position, has also indicated she may not allow backbench questions seen to give Mr Salmond too easy a ride.
"First minister's questions is, for many, the high point of the parliamentary week, and I intend to do all I can to ensure that this session plays its part in holding the government to account on the issues of the day," she said.
Elsewhere, the fourth question will be allocated to the SNP, with Labour getting the fifth.
Question six, said the presiding officer, would be allocated equally between the Tories and SNP, with one of the two Green MSPs selected "from time-to-time on a roughly proportional basis".
Even though allocations are in theory based on the political make-up of the chamber, Holyrood presiding officers have the final say in which questions are called.