Scottish Labour MP David Cairns dies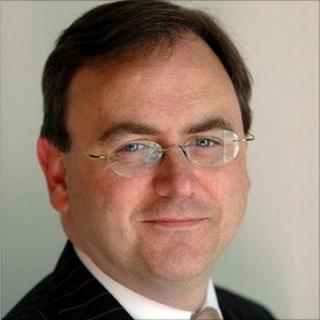 The Labour MP and former Scotland Office minister David Cairns has died following a short illness.
The Inverclyde MP was taken into intensive care in March, suffering from acute pancreatitis.
The 44-year-old had been receiving specialist treatment at University College London Hospitals.
A Labour spokesman, said: "David's untimely death is a huge loss to parliament and politics in this country."
Tributes to Mr Cairns flooded in from across the political divide, with Labour leader Ed Miliband and Scottish First Minister Alex Salmond each paying their respects.
Confirming the news, a statement from the party, said: "It is with great regret that we have to announce that David Cairns, member of parliament for Inverclyde, passed away at 2300 last night at the Royal Free, London.
"David had been suffering from acute pancreatitis after he was admitted as an emergency patient eight weeks ago.
"Our thoughts are with his partner Dermot, his father John and his brother Billy and all his many friends and family."
Mr Miliband said of the one-time Catholic priest: "David will be missed beyond measure as a former minister, as an MP, as a friend and a colleague by many people and my heart especially goes out to his partner Dermot and his family in Scotland.
"A highly effective minister of state in the Scottish Office, he was Labour through and through and yet was much-respected across the political divide."
Also paying tribute, Mr Salmond, said: "David Cairns was clearly a dedicated and principled parliamentarian, and an effective representative of his constituents, who carried respect across the political spectrum and far beyond.
"My thoughts are with his loved ones at their time of loss and sadness."
Scottish Secretary and Lib Dem MP Michael Moore, added: "David contributed a huge amount to Scottish political life and was a decent, intelligent and warm figure who was liked and respected across political divides."
And Tory MP David Mundell, does the Scotland Office job previously held by Mr Cairns, said: "I am shocked and deeply saddened by David's untimely death.
"He was a truly decent man, who worked tirelessly for his constituents and for the interests of Scotland."
Former prime minister Tony Blair, who first appointed Mr Cairns as a minister, said: "David's life was dedicated to public service. He was a committed and conscientious constituency MP, an excellent government minister and a passionate campaigner for social justice, equality and opportunity.
"But more than that, David was, quite simply, a good man, with time for everyone and a wonderful sense of humour, which made him a delight to be around."
Scottish Labour leader Iain Gray described Mr Cairns as "a man of enormous dignity, courage and outstanding intellect".
"His time as a minister was characterised by good humour, good judgement and good character, said Mr Gray.
'Gifted MP'
Greenock MSP Duncan McNeil described Mr Cairns' death as a "huge loss", adding: "People are just shell-shocked.
"David was a colleague and a friend to so many people and highly respected. He was a big talking point in Inverclyde - people were always asking how he was doing these last few weeks."
Mr Cairns served in the last UK government, but quit in 2008 after criticising Gordon Brown's leadership.
Glasgow Labour MP, Tom Harris, who also rebelled against Mr Brown, said: "David was a gifted and popular MP with a political instinct that was second to none.
"He was absolutely committed to the Labour movement and to Labour's electoral success."
The death of Mr Cairns means a by-election will be held in Inverclyde to choose a successor.