Scottish election: Results service on BBC Scotland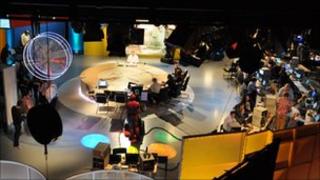 BBC Scotland is kicking off its election coverage as soon as the polls close at 2200 BST on Thursday.
Our results service on TV, radio and online will run through the night and across the following day.
A special programme will begin at 2200 BST on BBC Radio Scotland. TV coverage begins at 2345 BST, when Sally Magnusson and David Henderson will host a programme on BBC One Scotland.
And a full results service can be found at bbc.co.uk/scotlandnews.
The corporation's head of news in Scotland, Atholl Duncan, said it was the most ambitious coverage ever planned for an election in Scotland.
He added: "It's going to be an election marathon.
"We will have every kick of the ball on TV, radio and online, from polls closing on Thursday evening right through to the dust settling on the final results around Friday tea time.
"We will be live on air for around 19 hours on radio and for almost the same time on telly.
"And people who are out and about or at their PC will be able to follow closely on the best and most extensive mobile and online service there is."
Hundreds of staff will be working on programmes and output on Thursday and Friday and dozens of cameras will be deployed at counts throughout Scotland.
Derek Bateman and Kenneth Macdonald will keep Radio Scotland listeners informed, while TV viewers can receive results and analysis throughout the night, and again from 0600 BST on Friday.
Panels of politicians and commentators will give their reactions to the unfolding story on television and radio.
Experts, including Prof John Curtice of Strathclyde University, will be on hand to crunch the numbers and provide predictions and analysis.
The results will be shown on a large interactive touch-screen in the studio, where BBC Scotland's political editor Brian Taylor will offer his take on events and will also be blogging live from the studio floor.
ONLINE
2200 BST - onwards: BBC Scotland's news website will follow the results story with minute-by-minute updates on its LIVE: Election page.
Users will also be able to access a live stream of the BBC One Scotland's election programme.
For key stories, pictures and video go to our Scotland news index at bbc.co.uk/scotlandnews or our special election site at bbc.co.uk/scotlandelection
You can also follow the unfolding story on your mobile phone.
Political editor Brian Taylor will update his blog from the studio broadcasting the live Scotland programme.
Our correspondents will be tweeting throughout the night and the following day
TELEVISION
2345 BST - 0600 BST: The Scottish Election 2011 programme - on BBC One Scotland - will be broadcast live from BBC Scotland's HQ in Glasgow, presented by Sally Magnusson, with political editor Brian Taylor and co-presenter David Henderson.
There will be outside broadcasts from Lerwick and Stornoway in the north, to Tweedbank and Dumfries in the south.
Results, analysis and comment will also come from guests and experts in the studio.
0600 BST - 0915 BST: Continuing on BBC One Scotland, broadcasters Glenn Campbell and Jackie Bird will host an election special as the story continues to emerge at breakfast-time.
1100 BST - 1400 BST: Over on BBC Two Scotland, the eight-hour TV special continues, again with Glenn Campbell, as the parliament is expected to be taking shape.
1500 BST - 1700 BST: The team will analyse the outcome and review the big election stories of the day, on BBC One Scotland.
1830 BST - 1900 BST Coverage of the day's events will continue on Reporting Scotland.
2300 BST - 2330 BST: Newsnight Scotland, on BBC2 Scotland, will be on air to examine what the results will mean for Scotland.
RADIO
2200 BST - 2230 BST: As the polls close, Derek Bateman and Ken Macdonald present Scotland at Ten Election Night, where they will discuss how the campaigns have gone and what the results may bring. It is available on 92-95 FM; 810 MW and on digital.
0000 BST - 0600 BST: BBC Radio Scotland's Election Special, with Derek Bateman and Ken Macdonald, will provide results as they are declared, along with comment and analysis throughout the night from a panel of experts.
0600 BST - 0900 BST: The Good Morning Scotland team, with presenters Hayley Millar and Gary Robertson, will continue with the unfolding story. A number of seats are not expected to declare until after 0600 BST, so the programme will bring you the winners and the losers from across the country.
0900 BST - 1030 BST: Call Kaye will hear reaction to the results that have come in so far.
1030 BST - 1400 BST: The Newsdrive programme team will host an election special, with Bill Whiteford, as the results continue.
1400 BST - 1600 BST: Gary Robertson will present a Big Election Debate from BBC Scotland's Glasgow HQ as the shape of the country's next government is expected to emerge.
1600 BST - 1800 BST: Newsdrive resumes after the debate, with more analysis and commentary of the results.