Scottish election: Campaign enters last two days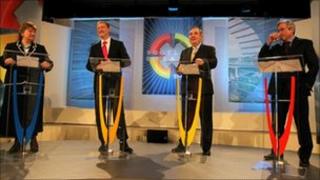 Scotland's political parties are hitting the election trail to fight for votes in the last two days of the campaign.
Labour, the SNP, the Conservatives and the Lib Dems are hitting key seats and highlighting policies.
The four main party leaders, Iain Gray, Alex Salmond, Annabel Goldie and Tavish Scott will also go head-to-head later in a televised debate on STV.
Voters go to the polls to elect their MSPs on 5 May.
The 90-minute debate will see the party figureheads take questions from a live audience in Glasgow.
On the campaign trail, SNP leader Alex Salmond is seeking a second term in office by focussing on its record, during a trip to Dundee.
He will ask voters to judge the SNP on policies such as the council tax freeze and its help for families in tough times.
Mr Salmond said: "People back the SNP's record in government, and the only way for Scots to get the council tax freeze in the next parliament is to grab it with both hands by voting SNP with both votes on Thursday.
"Labour, Tory and Lib Dem parties are all against the five-year council tax freeze - they must end their silence before polling day and spell out exactly how much they want to hike the council tax by."
In Edinburgh, Lib Dem leader Tavish Scott campaigned against a cost-cutting move to a single national police force for Scotland.
He said chief constables had warned the move could cost 3,000 police officers their jobs.
"Scots have just two days left to save local policing," said Mr Scott.
"On Thursday if they want to keep policing local, if they want solutions to grow our economy and if they want to restore excellence to Scottish education, they should vote Liberal Democrat.
"If they vote SNP, they're voting for five years of political campaigning for independence."
Campaigning in Eastwood on the outskirts of Glasgow, Annabel Goldie, the Tory leader, said no one party would emerge from the election with an overall majority.
"People don't have to vote for a party they don't like to stop another party they like even less," she said, adding: "They can vote for what they want.
"Scottish politics needs somebody who will stand up to the excesses of nationalism and socialism - that somebody is me."
Miss Goldie added: "We have a record of delivery in the past four years - Scottish Conservative pressure and Scottish Conservative votes have given us 1,000 extra police, a four-year council tax freeze, a £60m town centre regeneration fund, a national drugs strategy and over 10,000 jobs created for small business and construction."
Labour leader Iain Gray, who was campaigning in the Airdrie and Shotts area, announced he was to undertake 40 hours of non-stop campaigning as part of a 700-mile tour across Scotland in the final hours of the campaign.
"Labour will not take a single vote for granted and we are fighting hard so on Friday we can put our plan for jobs into action," he said.
"Labour wants to win over as many undecided voters as possible because this election is a now a choice between a plan for jobs or a plan for independence."
"Every waking minute from now until polling day, I will be out on the campaign trail and pushing the case for jobs, jobs, jobs."
The Greens also made their final election push, outside the Scottish Parliament, calling on the public to back the party in the regional list vote.
Co-leader Patrick Harvie, said: "During this election, Greens have set out a clear vision for the better Scotland we believe is possible, a vision we believe people across Scotland share.
"The second vote is vital - it might not tell you who governs Scotland, but it'll certainly tell you who they have to govern with.
"That can only mean one of the coalition parties or the Greens."