Scottish election: Back on the battleground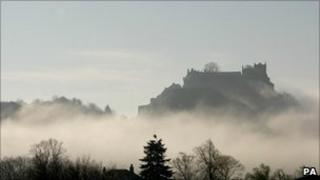 BBC Scotland's Good Morning Scotland reporter Kevin Keane continues his journey to find out what matters to ordinary members of the country's electorate.
This is a place which has become an established battle ground over centuries.
In the churchyard of the Church of the Holy Rude I contemplate another "Holyrood" battle being under way.
This time for your vote in the Scottish election.
Resident Alan Hutton told me: "Big issues are difficult to identify but I think employment and particularly youth employment is a major issue for most people in the rural areas and here.
"I think public services generally, housing, social housing and the lack of it in the rural parts of Stirlingshire, especially where we come from."
As the church bells rang out for visitors, a familiar tune did the same with next person I stopped.
Maureen Liddell said: "The big issue round about here is there's no work - it's all just retail for young ones leaving the school.
"They say apprenticeships but they only need two or three boys or girls and there are hundreds going after them.
"It's soul destroying."
The cobbled streets lead up the hill to Stirling castle, said to be the oldest building in Scotland.
But one mother-of-two told me the problems she faces are much more modern.
"For me personally it would be the cuts in the schools, I mean I'm hearing rumours of Stirling cutting their swimming which I think's primary five; they get free swimming lessons.
"I heard rumours that's being cut and the (extra-curricular) art classes in school."
But new Mum Joanne Wilson, taking a stroll with her partner and baby, told me policing is her biggest worry.
"Crime's a big one for me because we've had a few attempted break-ins round about us, including ourselves, and I'm paranoid about that sort of thing.
"I want to see a more visible police presence, we never see police about us and when we did they weren't very helpful."
As the busker uses his vocal talents to tout for the cash of passing shoppers, candidates here will be using these final days to do the same for votes.
And as a constituency which went from Labour to the SNP four years ago, both parties will see Stirling as one they have to win.