Scottish election: Final push for Holyrood campaign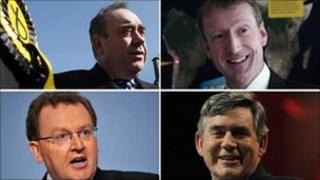 Scotland's main parties have begun the last three days of campaigning ahead of the Holyrood election.
SNP leader Alex Salmond urged voters to back his party for a five-year council tax freeze.
Former Labour prime minister Gordon Brown said an independence referendum would create uncertainty.
His comments were echoed by Tory Scotland Office Minister David Mundell and Lib Dem leader Tavish Scott warned against a "campaign for separatism".
Campaigning in Fort William ahead of the 5 May Scottish parliament election, Mr Salmond said re-electing the SNP would secure three "big prizes", making Scotland fairer, safer and healthier.
He urged voters to choose the SNP in both their own constituency and the regional list ballot, the proportional representation element of the voting process.
Mr Salmond said: "On Thursday, using both votes for the SNP will ensure council tax remains frozen for five years, taking average savings from the SNP's freeze to more than £1,200 per household - proportionately benefiting lowest income households the most.
"And by using both votes to re-elect an SNP government, voters will secure the NHS budget over the next parliament, protecting free prescriptions and investment in cancer treatment.
"Re-electing an SNP government will also ensure the 1,000 extra police we have recruited are kept on the beat to make Scotland's communities safer."
Campaigning in Livingston, Mr Brown said an SNP independence referendum bill, planned for the second half of the next parliament, would lead to years of uncertainty and put off economic investment at a time when it was most needed.
"The choice on Thursday is between those who are the job-wreckers and those who are the job-creators," said the Labour MP.
"The SNP's answer, as it is to everything - break up Britain. Labour's answer - bring forward a plan for jobs, a plan for jobs for the 40,000 unemployed young people, a plan to create 250,000 new jobs over the next decade.
"The SNP are utterly distracted by their obsession with independence. So unpopular are their plans for separation, they are desperate not to mention it, but Alex Salmond let slip by declaring that if people vote SNP on Thursday, he will have the 'moral authority' to push for breaking up the Union."
Speaking from Dumfries high street, Mr Mundell, Scotland's only Tory MP, called on all voters to "stand up to the excesses of nationalism and socialism" and back his party in the regional vote.
He said: "Today, Alex Salmond has tried to claim independence is not one of his top three priorities. What nonsense - the SNP exists to rip Scotland out of Britain.
"Only Annabel Goldie and the Scottish Conservatives will stand up against the SNP's separation plans," said Mr Mundell.
"Labour has wobbled on an independence bill, the Lib Dems are wobbling on an independence bill, only Annabel and the Scottish Conservatives are resolute in our opposition to an independence bill."
Mr Scott, who was campaigning at Landmark Adventure Park, at Carrbridge, near Aviemore, said ahead of polling day: "An SNP vote is for independence and five years of a permanent political campaign for separatism.
"People want a party who will concentrate on jobs and growing the economy, on restoring excellence to education and in stopping the others abolishing your local police force which will cut 3,000 police officers across Scotland.
"If you share these priorities, the only vote that works for you is the Liberal Democrats."