Scottish election: Parties enter final campaign weekend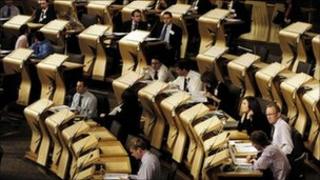 Scotland's party leaders have entered the final weekend of their Holyrood election campaign.
The SNP put their five-year freeze council tax pledge at the centre of their campaign and former chancellor Alistair Darling joined Labour campaigners in Edinburgh.
The Scottish Tories were in Glasgow to highlight plans for a £200 pensioner household council tax discount.
Sir Menzies Campbell joined the Lib Dem campaign trail in St Andrews.
With just five days to go before polling, Scotland's main political parties were out in force in a bid to capture votes.
Party leader Alex Salmond, who was campaigning in Linlithgow and Falkirk East, said: "At a time of soaring fuel bills and Westminster's VAT hike, the SNP's council tax freeze for the whole of the next Parliament is vital for families the length and breadth of Scotland, as well as being massively popular."
Student activists
Elsewhere, Scottish Labour leader Iain Gray met voters at a brass band performance in Edinburgh.
He was to be joined on the campaign trail by former chancellor Alistair Darling.
Mr Darling said: "Unemployment is the most urgent and pressing issue, and Scottish Labour is now the only party with a serious plan for tackling youth unemployment and creating jobs."
Former Liberal Democrat leader Sir Menzies Campbell hit the campaign trail in St Andrews, where he met student party activists.
He said: "Many people in Fife and across Scotland will get a surprise when they see their monthly paycheck this weekend.
"As a result of Liberal Democrat influence, 800,000 people across Britain have taken out of paying income tax altogether, meanwhile all taxpayers have received a boost to their pockets because of increased personal allowances."
In Glasgow, the deputy leader of the Scottish Liberal Democrats Jo Swinson will join top Liberal Democrat Glasgow regional list candidate Katy Gordon.
Scottish Conservative leader Annabel Goldie was in Glasgow to discuss with voters her party's plans to introduce a £200 pensioner household council tax discount, alongside the number one Glasgow list candidate Ruth Davidson.
Speaking on Buchanan Street in Glasgow, Ms Goldie said: "The council tax freeze has been a great help to families with their household bills, which is why it was only delivered with Scottish Conservative support."